03/25/2021
InMarket Retailer Visitation and Loyalty Report: Q4 2020
Visits to top retailers in the U.S. continued to be affected by the COVID-19 pandemic in the fourth quarter of 2020, according to visitation patterns tracked by location data company InMarket.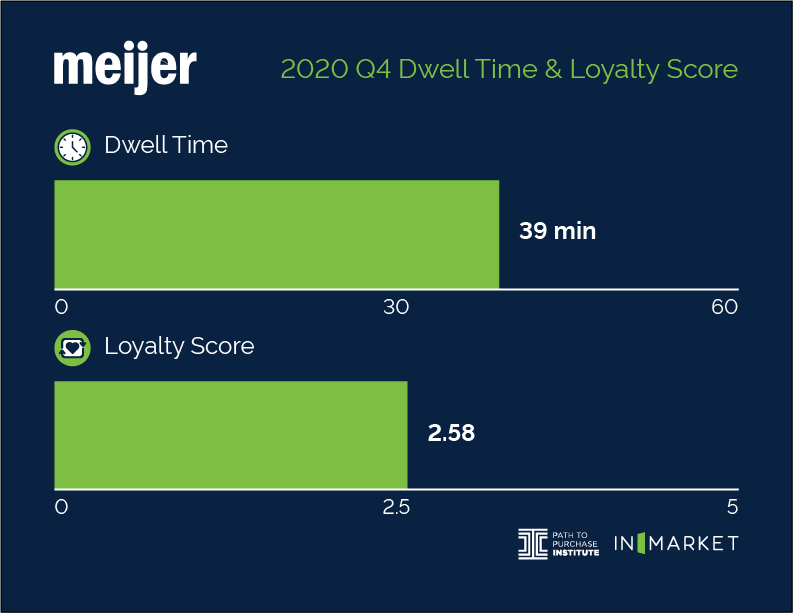 Although the influence of the pandemic kept visits below prior-year levels, the holiday season did bring with it relatively buoyed dwell times (the average length of time shoppers stay while visiting store locations) for most retailers. Costco remained well at the head of the pack as the retailer with the longest trip lengths on average, clocking in a dwell time of nearly 50 minutes. Sam's Club again came in second with just about 41 minutes, but fellow warehouse club chain BJ's (38.28 minutes) lost a few seconds and its third spot in the ranking, overtaken by Meijer, where dwell time saw its biggest recovery, jumping up nearly a full two minutes to 39.22 minutes.
Several other retailers saw dwell times swell by at least a minute. The list spanned Target (up exactly one minute to 34.10 minutes), Fred Meyer (up 1.22 to 28.77) and King Soopers (up 1.07 to 26.73) along with some more surprising names from the office and home improvement channels: Office Depot (up 1.50 to 28.28), Staples (up 1.11 to 25.59) and Ace Hardware (up 1.02 to 26.29).
In addition to BJ's, the handful of other retailers that had shoppers shortening trips during the fourth quarter were H-E-B (down 0.44 to 30.00 minutes), Giant Food (down 0.47 to 24.90), Rite Aid (slipping 0.06 to 16.51), Family Dollar (down 0.32 to 14.81), Dollar General (slipping 0.13 to 13.44), Walgreens (down 0.21 to 12.97) and the biggest loser, Amazon Go (down 0.63 to 9.58). The dwell time at Speedway increased 0.19 to 7.81 minutes but the convenience-store chain retained its spot at the bottom of the list with the shortest average trip length of any retailer measured.
Most of the retailers that lost dwell time also saw some erosion of trip frequency. The loyalty index (measured by the average number of repeat visits an individual shopper made to a store from October to December) decreased quarter over quarter at BJ's (down 0.05 to 1.60), Walgreens (down 0.03 to 2.86), Family Dollar (slipping 0.01 to 2.63), Rite Aid (falling 0.04 to 2.67), Giant (down 0.07 to 3.13) and H-E-B (down 0.08 to 3.81) while increasing at Amazon Go (up 0.13 to 2.80) and Dollar General (up 0.02 to 3.10).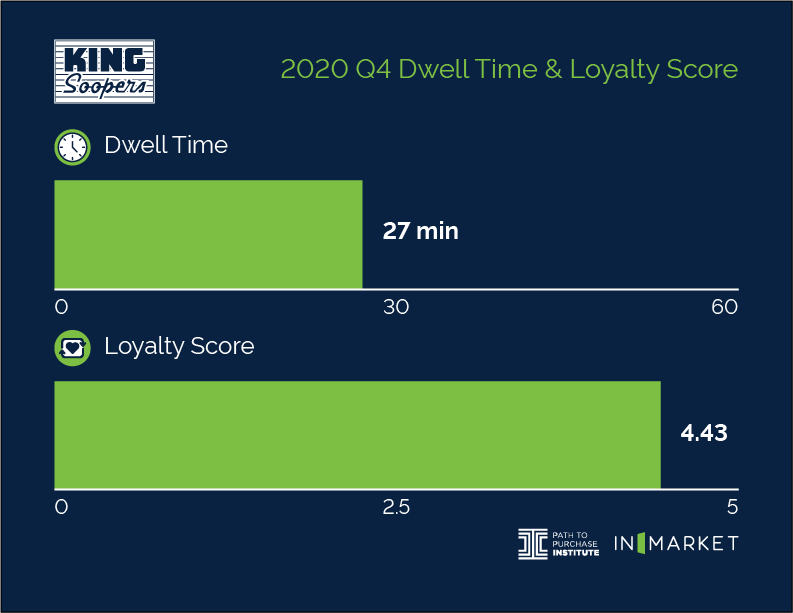 Relative to the prior quarter, a good number of retailers saw an increase in both metrics in Q4. The majority were grocers, spanning King Soopers, which continued to lead the loyalty charge with a score that increased 0.46 to 4.43, Fry's (up 0.16 to 3.22), Smith's (up 0.12 to 3.18), Acme (up 0.11 to 2.71), Hannaford (up 0.08 to 2.65), Vons (up 0.04 to 2.43), ShopRite (up 0.07 to 2.34), Winn-Dixie (up 0.01 to 2.20) and Stop & Shop (up 0.04 to 2.17). Also on the loyalty gains list were mass merchants Walmart (up 0.12 to 3.65), Fry's (up 0.16 to 3.22) and Meijer (with a tiny 0.01 bump to 2.58); consumer electronics retailer Best Buy (inching up 0.02 to 1.49) and the surprise winners of the holiday season: Staples (up 0.03 to 1.66) and Office Depot (up 0.03 to 1.53). Kroger, Safeway and Harris Teeter each had no change in terms of the loyalty index.
The full retailer visitation and loyalty report with data for more than 45 top U.S. retail chains is attached at right. Institute members can also view individual retailer snapshots tracked over time within the Market Position and Strategy Overview section of the respective retailer profiles.
Check back next quarter as we continue to track the InMarket data and dive deeper into the trends as they develop.
Path to Purchase Institute