12/21/2021
Mondelez, Walmart Share Holiday Recipes
Mondelez International and Walmart recently wrapped a "Season of Giving" recipe contest, the latest activation of the partners' ongoing "Create. Share. Give" cause platform.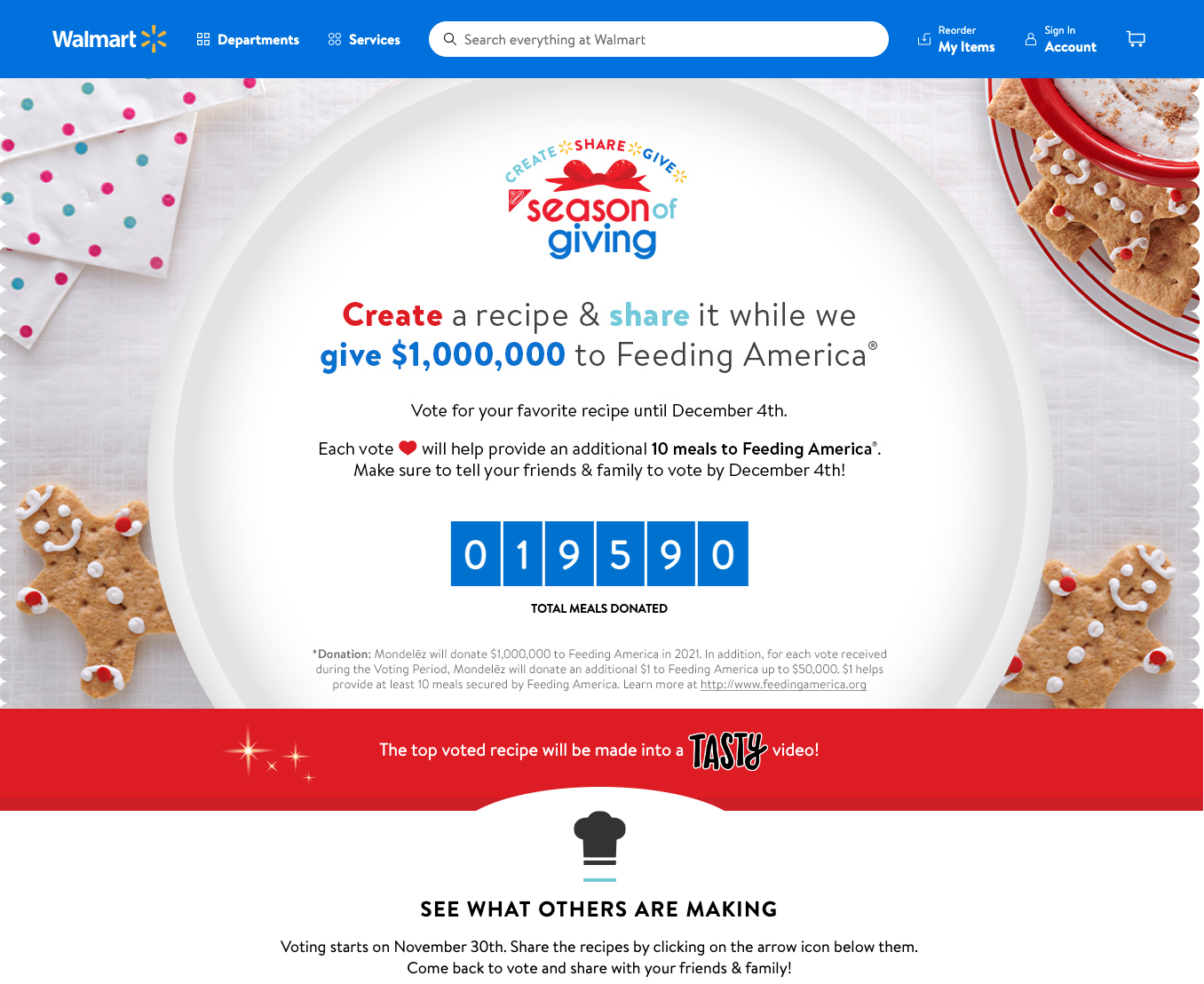 Shoppers were able to submit up to 10 recipes incorporating Mondelez products through a web page within walmart.com. The page links to e-commerce pages for Mondelez products and hosts four "recipes for inspiration" incorporating brands, including Oreo, Ritz and Nutter Butter. A walmart.com home page carousel ad linked to the page.
The recipe that received the most votes from other consumers from Nov. 30 to Dec. 4 will be made into a video from Buzzfeed's Tasty as part of an ongoing partnership between the food-focused social franchise and the mass merchant. Mondelez has pledged to donate $1 million to Feeding America in 2021 and will contribute another $1 for every vote received (up to $50,000). The partners ran an identical promotion during the 2020 holiday season.
Earlier this year, Mondelez used the "Create. Share. Give" platform to activate its Olympic sponsorship with a collect-and-win game. Promotional packages of Oreo, Chips Ahoy, Belvita and Nabisco containing game pieces were sold at Walmart stores and through walmart.com from June 10 through Aug. 31. Three hundred shoppers who collected a set of four logos representing Nabisco brands received a $1,000 prepaid Visa card. The game pieces also awarded $100,000 and a smart TV as instant-win prizes. Southfield, MI-based Merkle handled the promotion.
Prizes were redeemed through a promotional web page where consumers could also click a button to trigger a $1 donation (up to $50,000) to the U.S. Olympic and Paralympic Foundation. In stores, pallet displays promoting the game stocked eligible SKUs.
Ritz also ran a "Lunch Goes On" campaign as part of the "Create. Share. Give" platform throughout March, pledging to donate 10 cents to Feeding America for every Ritz product purchased at Walmart (up to $1 million). Side panels on pallet displays promoted the effort in stores, with a co-branded web page and sponsored blog posts supporting.
Path to Purchase Institute