10/15/2020
Eight O'Clock Coffee, ShopRite Host Java Parties
Tata Consumer Products' Eight O'Clock Coffee teamed with influencer marketing company Ripple Street for a program encouraging ShopRite shoppers to "be your own barista" at home during the COVID-19 pandemic.
Eight O'Clock Coffee (EOC) enlisted Ripple Street, Tarrytown, NY, to host some 400 parties at consumer homes on July 11 to shine a spotlight on EOC Barista Blends, a line of flavored coffee the brand launched in 2019. Each host received a party kit that included: 
a $5 and $10 ShopRite store gift card, 
an EOC-branded apron, 
EOC-branded disposable paper cups and coffee scoops, and
recipe cards to create an egg muffin cup, avocado toast, caffe americano or mocha macchiato.
"The goal was to safely build awareness and excitement around Barista Blends through an authentic, fun and relevant promotional activity for our target consumers," Ash Khan, EOC's senior brand manager, told the Path to Purchase Institute. "We had worked with Ripple Street previously and wanted to replicate a proven model to drive trial through an experiential event, like Ripple Street's signature 'House Party' solution."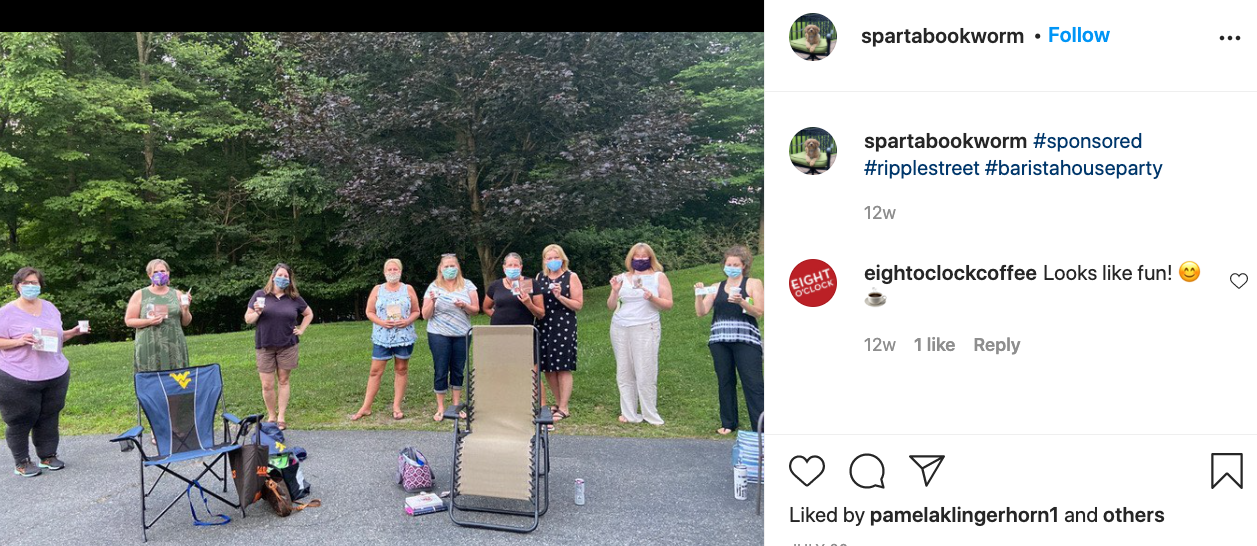 About 6,200 consumers applied via ripplestreet.com to host a #BaristaHouseParty, according to David Smith, Ripple Street's VP of Solutions. Throughout the application phase and House Party experience, consumers were encouraged to take selfies and group photos of themselves at ShopRite and at home with EOC's Barista Blends, and share their experience using #BaristaHouseParty via social media, Smith explained. 
The program's target audience was ShopRite coffee drinkers between the ages of 25-40 that resided in the grocer's Northeast region. "Our brand is heavily developed in the Northeast, and we wanted to take advantage of ShopRite's very strong and extensive presence in the region," said Khan, adding that the brand launched Barista Blends to build and capitalize on the growing affinity towards flavored coffee, especially among Millennial coffee drinkers. 
The COVID-19 Pandemic
The Barista Blends line exists to help "our consumers indulge in their favorite coffee shop beverage at home, and that is captured with our tagline 'Be Your Own Barista,'" Khan said. Though the program was planned prior to the COVID-19 pandemic, the tagline and program was still relevant and resonated well with shoppers during the pandemic this summer. 
"We [originally] intended the celebration to take advantage of a time of year when socializing amongst friends and family is readily possible (i.e., due to vacations, good weather) and to coincide with a few in-store promotions we were running at ShopRite to promote our Barista Blends range," Khan said. "Our tagline, 'Be your own barista,' resonated well during the summer since consumers were spending less time visiting local coffee shops as part of their usual routine, and more time at home making and enjoying coffee. This is supported by the fact that we saw an uptick in sales for EOC products."  
When COVID-19 hit, however, Khan said the brand quickly began to work with Ripple Street to integrate safe, social distancing messaging and guidelines into the Barista Blends program. The partners, for example, ensured that all selected hosts were aware of their local social distancing guidelines, he said.
The campaign ultimately generated more than 44,000 social media comments and posts, and 12,000 product trials. The program also generated more than 830 authentic product photos, and 411 product reviews with an average rating of 4.8 out of 5. 
Path to Purchase Institute