07/08/2020
Target Finds 'Partners in Pride'
Danone North America's Silk and Johnson & Johnson joined Target as "Partners in Pride" to celebrate Pride Month in June.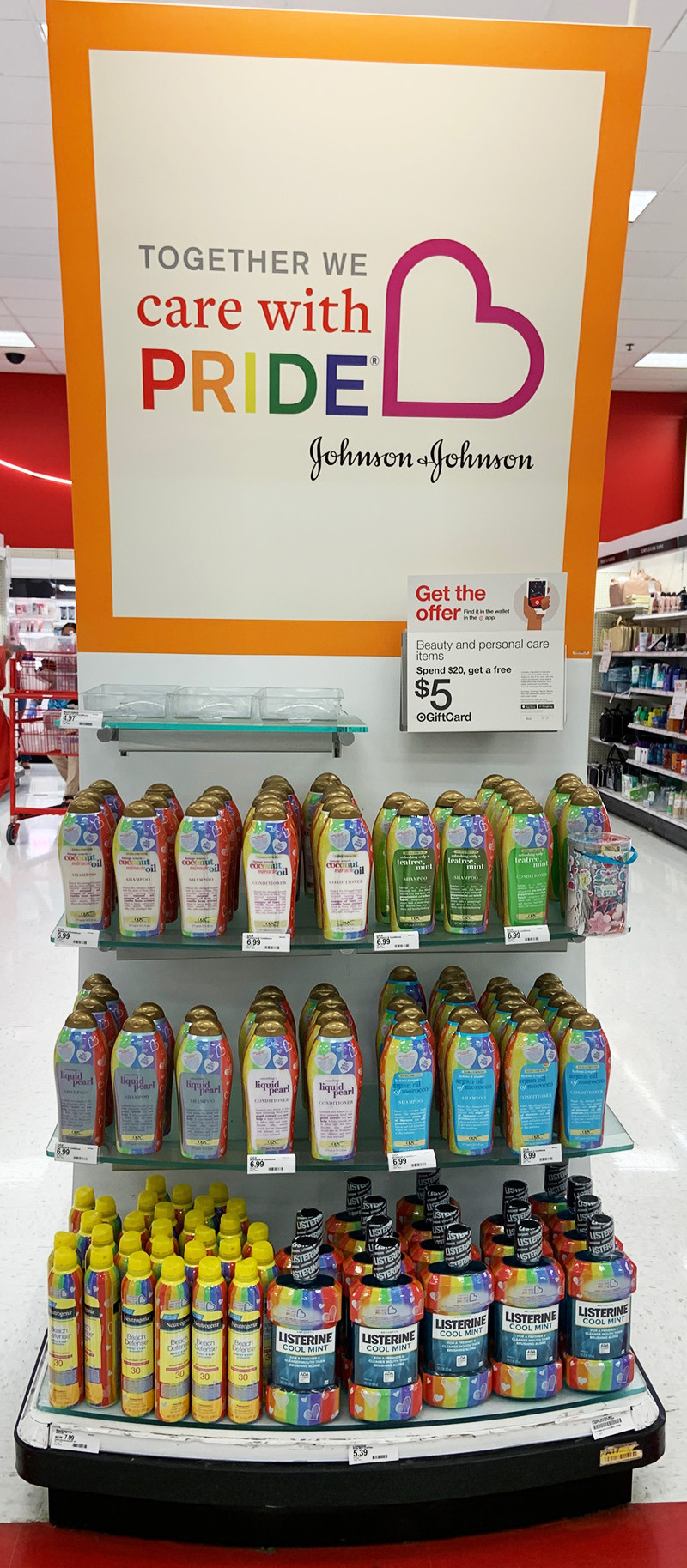 Home page display ads from both CPGs on target.com link to a campaign web page within the retailer's website touting Silk and J&J's commitments to LGBTQ+ inclusivity and directing shoppers to e-commerce pages for both partners. The page also links to a page spotlighting Target's #TakePride collection, themed apparel, accessories and swimwear from brands including Fifth Sun, Sirena and private label Well Worn.
The collection includes more than 90 SKUs sold online and in nearly 500 stores in an expanded selection of sizes. Because the COVID-19 pandemic has led many Pride celebrations to be postponed, some of the SKUs will be available online through the fall. Target has curated similar collections annually since 2013, and while the SKU count has remained consistent, the number of participating stores had progressively increased.
Multiple email ads linked to a "Pet Pride Gear" lineup featuring SKUs from private label Boots & Barkley and Worldwise's SmartyKat and TrustyPup. Target previously spotlighted those products in May as part of its "National Pet Month" activity.
In stores, endcap displays employed a "Together We Care with Pride" message to merchandise J&J's OGX, Listerine and Neutrogena in rainbow packaging, sold from May through July at Target, Amazon, Walgreens, Ulta, Kroger and Ahold Delhaize's Giant Co. Home page display ads on kroger.com also promoted the Care with Pride line (which first launched last year at Target and Walmart) and linked to an e-commerce page touting that the manufacturer has raised more than $1 million for nonprofits focused on the LGBTQIA community since 2011.
A June 11 post on Target's "A Bullseye View" blog announced that Target was making a $100,000 donation to GLSEN, a nonprofit supporting LGBTQ students, in honor of Pride Month. The retailer made an identical contribution last year.
Target has been an industry leader in LGBTQ issues, coming out in support of marriage equality in 2014 and allowing transgender shoppers to use the bathroom or dressing room corresponding to their gender identity starting in 2016. While these policies have caused the retailer to be repeatedly targeted with boycotts by conservative groups, the early and consistent focus on inclusion has helped Target distinguish itself from its primary rival Walmart, which didn't bring Pride Month activity in stores until 2018.
Path to Purchase Institute