06/02/2021
DTC Brands Bring Sexual Health to Walmart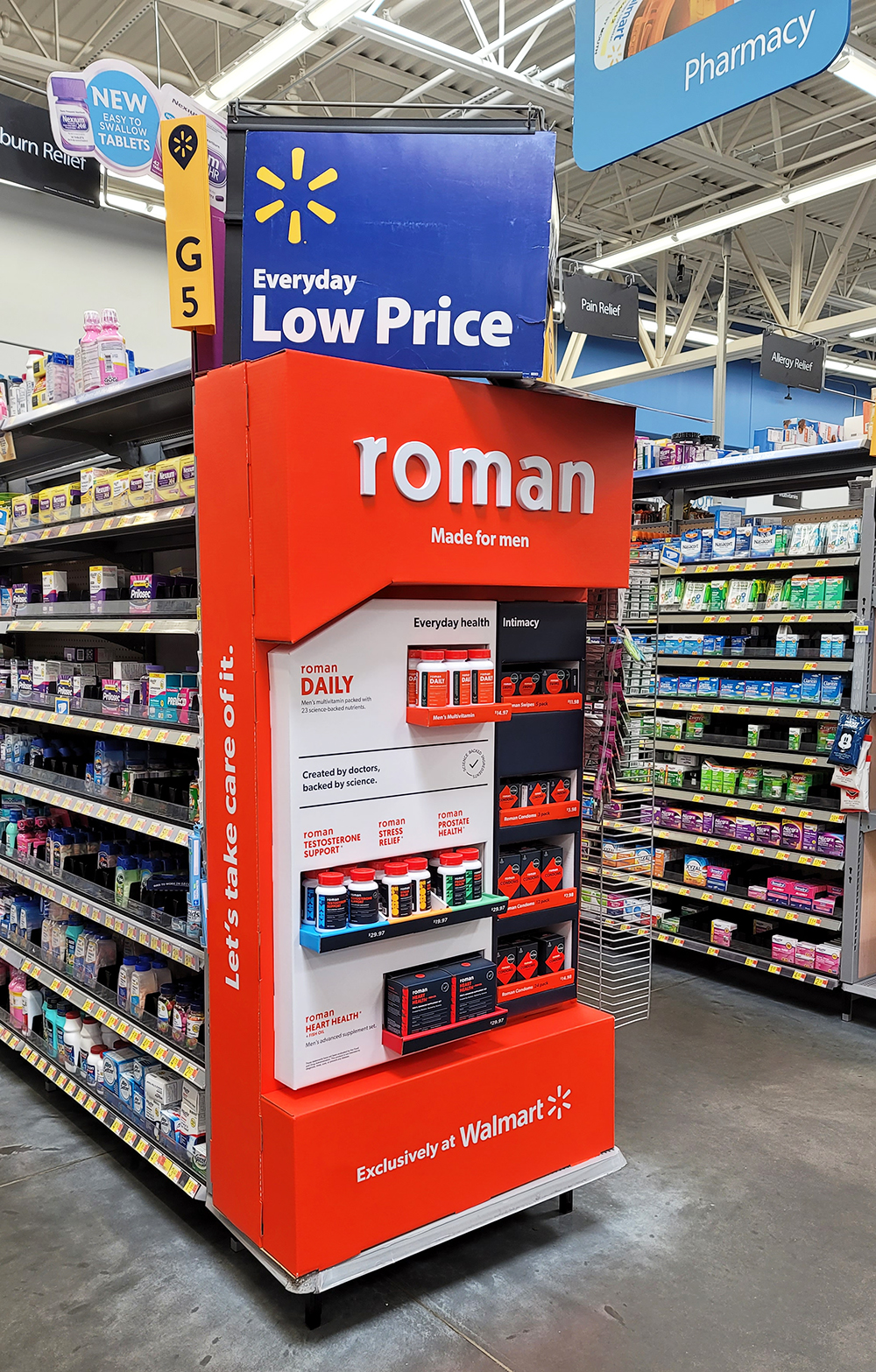 Healthcare technology company Ro's direct-to-consumer men's health brand Roman made its retail debut at Walmart on May 1, part of the mass merchant's overall effort to expand its sexual health offerings.
Roman first launched in 2017, pioneering a DTC way to sell medication for hair loss and erectile dysfunction. The retail rollout spans the brand's vitamins and supplements for heart health, stress relief, testosterone support and prostate health, as well as wipes and condoms.
"This product pairing aims to highlight the potential health connection for consumers between daily wellness and sexual health and marks one of the first times a direct-to-consumer brand has entered Walmart with a cross-category product offering," Ro indicated in a media release.
In stores, the items are cross-merchandised on a dedicated, orange endcap display in the pharmacy department, with "everyday health" items on one side and "intimacy" products on the other. The layout ensures Walmart shoppers are introduced to categories they may not have discovered online, and reduces stigma around products typically shipped home in unlabeled boxes, Ro chief operating officer George Koveos told Retail Brew.
"We want our products to be available in every channel you can think of," Ro co-founder and chief growth officer Rob Schutz told MediaPost. "Walmart is an extension of that marketing strategy. To be available in thousands of Walmarts? That's the best billboard we can have."
Part of the partnership includes releasing several exclusive products, like bulk packaged condoms, Modern Retail reported. The launch also gives Walmart shoppers an introduction to Ro's telehealth services for medications requiring a prescription.
Support for the launch includes social media activity from the brand.
At Walmart, Roman is part of a growing lineup of sexual health products. In recent months, reproductive products from DTC brands Lola and Modern Fertility (since acquired by Ro), and plant-derived sexual health products from The Honey Pot have also joined the retailer's assortment. The former brand first partnered with Walmart last year on period products, now adding lubricant and condoms to its assortment. The ladder brand offers pregnancy and fertility tests that pair with its mobile application.
Path to Purchase Institute