08/01/2022
​​​​​​​The convenience store chain reimagines the brick-and-mortar experience at concept locations across the country.
7-Eleven debuted the "Evolution Store" concept in 2019 in its hometown of Dallas. It was a way to reimagine the in-store experience, serving as an experiential testing ground for shoppers to try the latest products and innovations. The convenience store chain has since added Evolution Store locations in north Texas; New York; Washington, D.C.; Manassas, Virginia; and San Diego.
In June, 7-Eleven opened its ninth Evolution Store in the U.S., and its fifth in the Dallas-Fort Worth market. The Path to Purchase Institute recently visited the newest store, located at 13635 Preston Road in Dallas, and also the Manassas, Virginia, store, located at 10601 Lomond Dr. Here's what stood out.
Both stores have expanded beverage offerings, most notably customizable self-serve options as the retailer aims to bolster its position as the creator of the first to-go coffee ("OG To-Go Since 1964") and the original coffee destination. This comes to life at the Manassas store, which offers eight nitro cold brew and premium tea flavors on tap on an endcap. The Dallas location features a second self-serve espresso machine where the retailer tests specialty items, such as cold foam, caramel macchiato and horchata latte.
In addition to custom espresso drinks and cold brew coffee, both stores also offer healthier beverage options via self-serve organic smoothie and juice machines with touchscreens. At the time of our visit, the juice machine was offering six flavors — including strawberry, clean green, mango and berry blend flavors over ice.
Both locations feature an illuminated vitamin-infused sparkling water machine, communicating that the flavored water comes still or sparkling, contains zero calories and is made with alkaline mineralized water. These offerings are available alongside 7-Eleven's popular products, including Slurpee drinks, Big Bite hot dogs and Big Gulp fountain beverages.
Both locations house an enhanced and expansive selection of wine in a small wine cellar. At the Manassas store, we spotted an educational sign attached to the end of a gondola display facing the cellar, defining the different types of wines, such as pinot grigio and malbec, and the best food pairings for each.
While all Evolution Stores feature a restaurant concept, no two locations are exactly alike, as the retailer continues to tweak the design and product mix based on customer feedback and shopping habits. The Manassas location features a Raise the Roost Chicken and Biscuits as well as a Parlor Pizza inside — the chain's first two-restaurants-in-one concept. The Dallas location includes a Laredo Taco Co., a popular south Texas restaurant concept that 7-Eleven acquired in 2018.
Overall, the lab stores appear larger than the typical 7-Eleven and include a sleek exterior and a spacious and clean design inside, leveraging ceiling, shelf and aisle lighting. The stores also offer an updated checkout design, with a curved lane surrounded by potential impulse buys, as well as digital innovations to give shoppers added convenience, including mobile checkout and delivery. With 7Rewards, the retailer's loyalty program available through the 7-Eleven app, in-store customers can skip the checkout counter and pay for their purchases directly with their phones.
7-Eleven's Evolution Store - Gallery
Image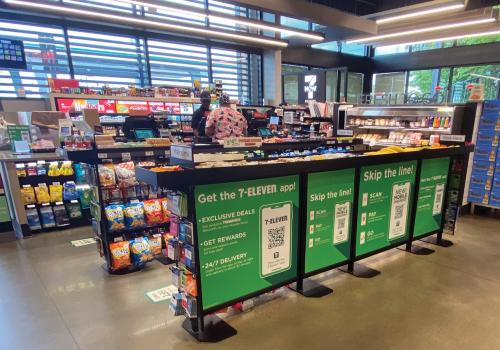 Image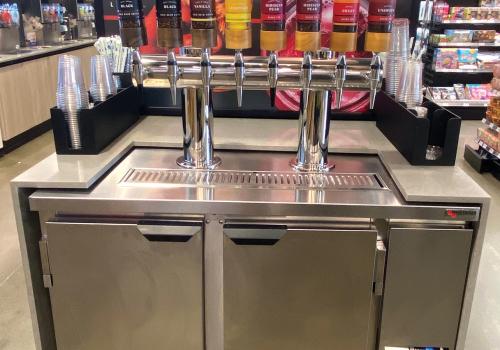 Image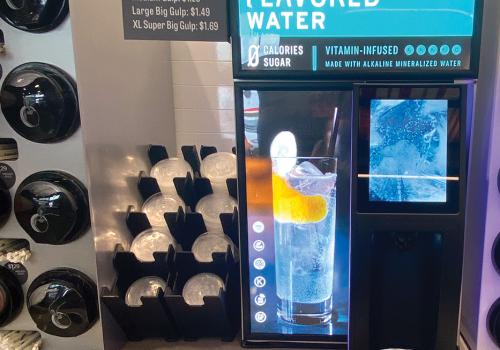 Image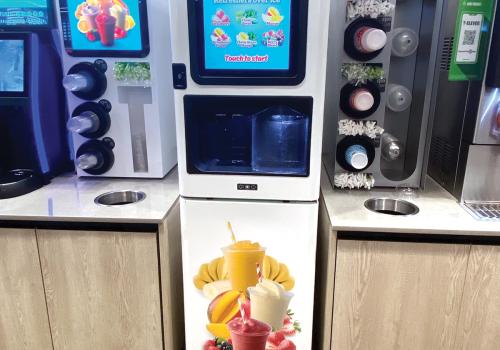 Image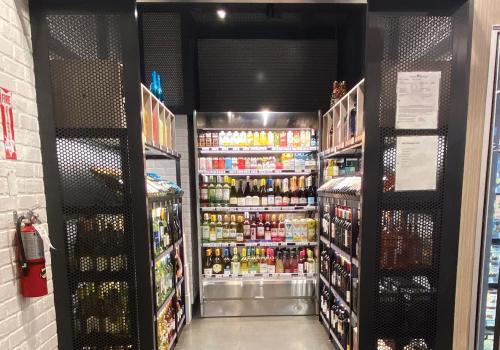 Image