02/15/2022
Our 26th annual survey finds an industry figuring out how to engage shoppers while still dealing with the persistent pandemic and plenty of other concerns.
RETAIL MEDIA TRENDS
Our Trends report examines the challenges retail media presents, while providing chain-by-chain ratings of 23 retailer networks.
Ever since the World Health Organization declared COVID-19 a global pandemic in March 2020 and disruption set in, consumer product companies have been trying to adapt and figure out what the new normal will be. Now, as we approach the two-year mark, there's still no clear answer.
With our 26th annual Path to Purchase Trends survey, conducted in October-November 2021, we set out to understand how these companies and their marketers have been dealing with the issues of the day as well as what their concerns were as we headed into the new year.
It should come as no surprise that, among the respondents to our online survey, the supply chain crisis, budget/funding/inflation issues and a pandemic that won't subside were among the biggest concerns heading into 2022.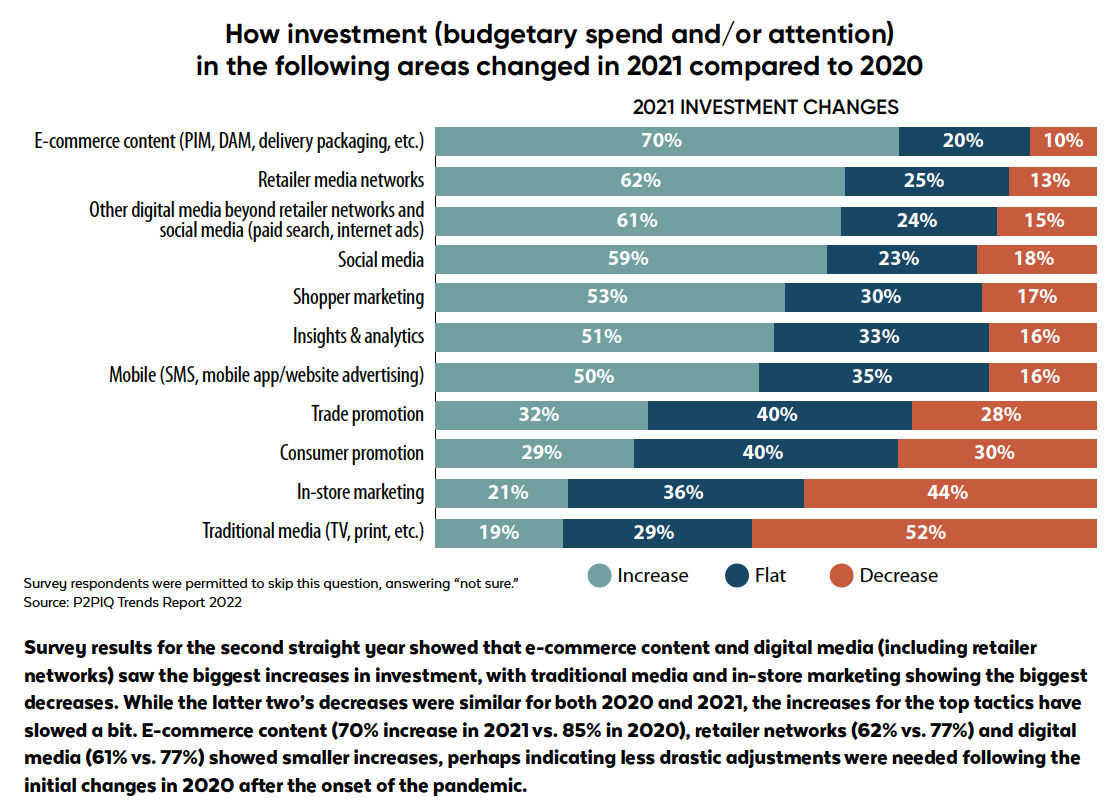 "Increasing costs of everything — raw materials, transportation, labor (and not being able to find people to fill the positions in our plants)," said one respondent.
"There is no government plan in place to address these rapid cost increases," answered another. "I am concerned high levels of inflation are on the horizon."
And, beyond costs … "Material availability, whether it's related to the production of our products or to our marketing efforts. Reliable transportation/carriers is also an increasingly troublesome issue," a respondent said.
The COVID-19 virus itself, and the variants that have occurred, remained a concern for many of our respondents (and this was before the attention-grabbing omicron variant emerged in late November).
In addition to the general challenges the pandemic has presented, there's still "the struggle to find effective and cost-efficient ways to sample products in the COVID world," a respondent reported.
Many respondents did identify concerns beyond those mentioned above. "Getting noticed and keeping people's attention," was one respondent's concern. "Also, making sure we have a steady flow of products to fill our orders."
"Minimizing the impact of paring down in-store efforts," said another. "The attention span is short, and ensuring we have the shopper's attention throughout the journey is key to winning."
Identifying a challenge not specific to these pandemic-related times, one respondent was concerned with overall brand awareness: "We are an emerging brand that has had success gaining placements, but are struggling with pull through on the shelves. Our two biggest priorities for 2022 are to drive marketing resources to our wholesale partners and exponentially growing our brand awareness."
And, changing subjects, a concern for another respondent was, "Low-price players creeping into the category and providing inferior products may sour consumers for adoption of higher-end products."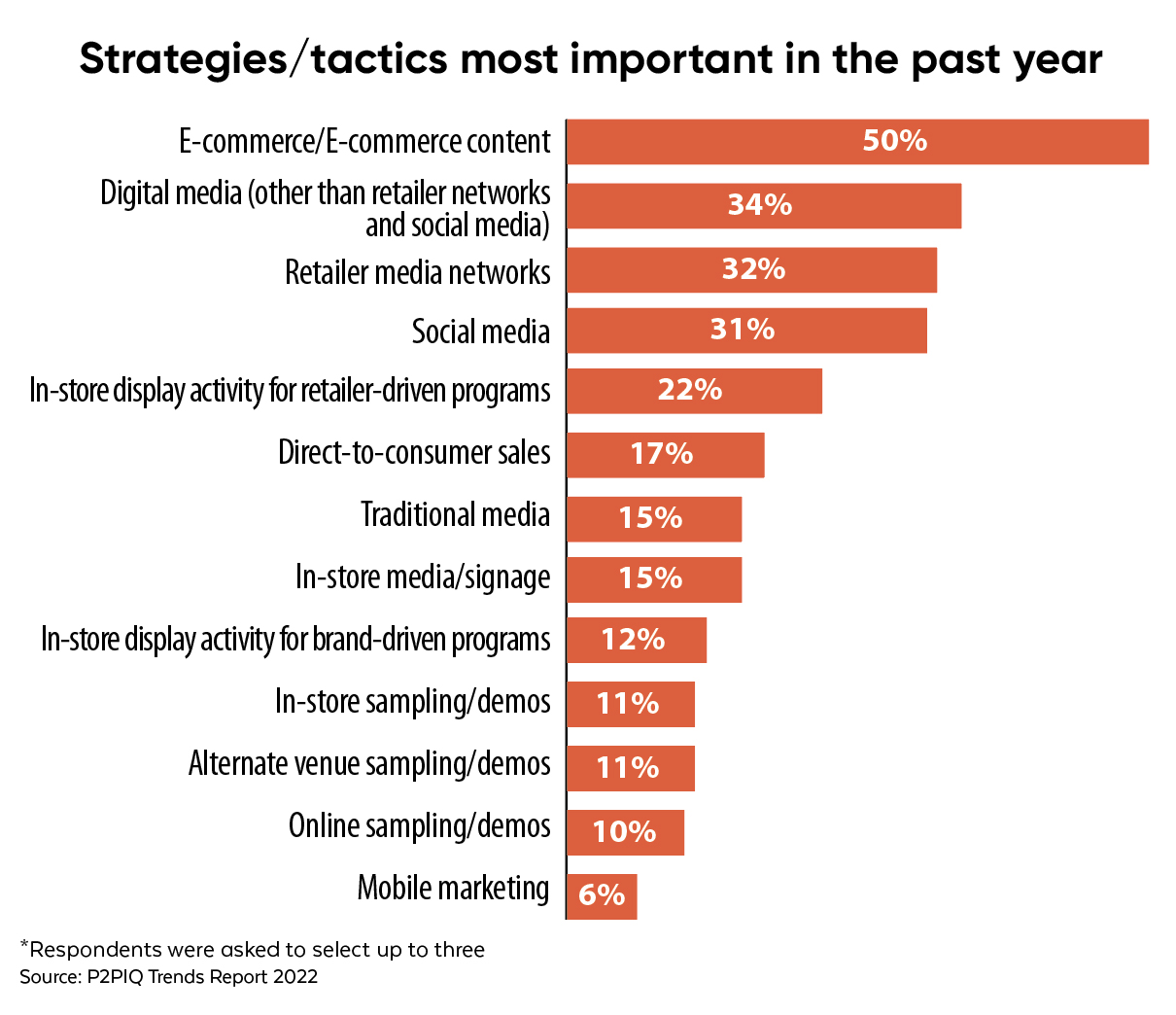 Most Important Strategies/Tactics
We presented the product marketers taking our survey with a list of 13 strategies or tactics and asked them to choose up to three that have been the most important to them in the past year (see chart above). Exactly half answered either e-commerce generally or e-commerce content — the most for any option. Next, slightly more than a third of respondents chose digital media tactics (other than retail media and social media), with retailer media networks and social media finishing close behind in third and fourth place, respectively.
As a follow-up to that question, we asked respondents to give us more detail on the strategic/tactical changes they've made in the last year. Here's a sampling of their responses:
"Due to COVID we had to pivot and rely less on in-store and more on online."
"We've increased our e-commerce strategy due to growing online grocery shopping."
"Our organization is investing more in e-commerce — not in internal resources, but in marketing dollars for consumer promotions."
"We've increased focus on digital media that can impact e-commerce buys."
"We've increased paid search to capitalize on product trends, and increased spend on analytics in order to make actionable decisions to optimize the budget."
"There's a greater focus on engaging the shopper before they enter the store via social media and other digital media, plus mobile marketing. Sales at the shelf are still important, so we continue to invest in shelf media spends."
"It has been difficult to connect with some retailers as there has been significant buyer turnover. You start to plan activity only to be told that the person has left the company, been transferred or promoted."
"Our key focus areas are getting more visibility to the impact of retail media, and collaborating with retailers to improve impact of shopper marketing and retailer media."
"We had a significant shift into social, especially TikTok, in order to follow the consumer. We've seen strong conversion from these activities, so we've amped up more expenditure in this space."
Leveraging Physical Experiences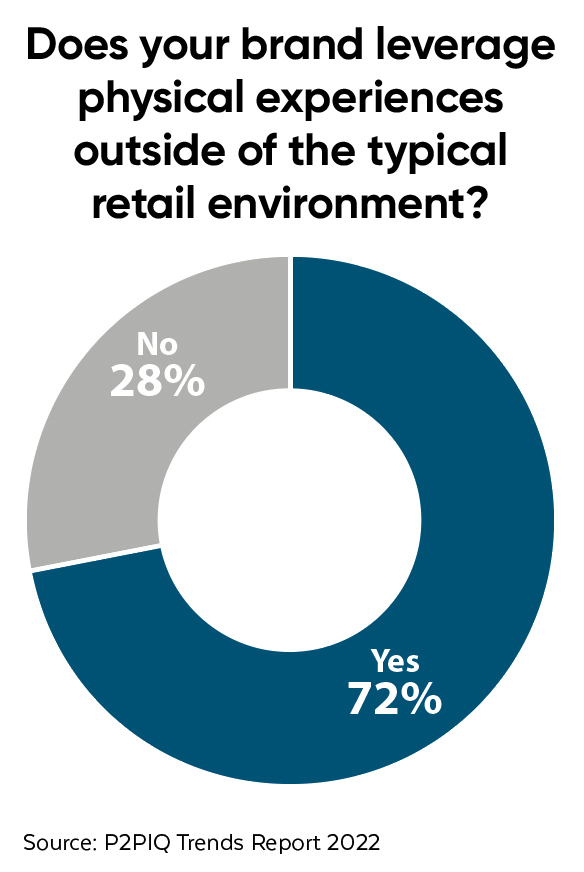 While none of the various in-store related choices in the strategies/tactics question were selected by more than 22% of respondents, another question related to physical experiences had 72% say that they leverage in-store/physical experiences in some way.
We picked their brains further, asking what types of physical experiences beyond the traditional retail environment their brands leverage.
Among the answers were: hosting or having a presence at local events; sponsoring larger events such as concerts, festivals and sports; leveraging brand or pop-up stores; executing demonstrations inside and outside stores; and retailtainment.
And then, getting to the "why," we asked what the main factors were in driving the decision/ability to leverage physical experiences outside the traditional retail environment.
Many of the answers were simple and what you might expect, including the ability to reach the right consumer; brand awareness and sampling; brand engagement; content generation and testing; and to drive innovation.
Some of the other responses dove a little deeper:
"The desire to stay connected to our local community."
"To meet the end-users where they work and play, rather than hoping they'll find the time to come to our dealers' stores."
"For consumers to see/feel/experience products live and engage with brand authorities and experts."
Engagement Inside the Store
Diving deeper into the store itself, we asked what will most effectively drive shopper engagement inside the store going forward. Interestingly, the term "omni" popped up in multiple answers.
"This is a tough one," one respondent said. "Outside of pricing tactics, I would say a link to the omni-experience — the ability for shoppers to browse in-store and on their phone at the same time to gather more information to aid their decision-making."
"The complete omni-journey," answered another. "In-store is not going away, so as tactics evolve more to before the store, it's important to keep in mind that you still need to win the physical shelf."
"Omnichannel communication and offers" are critical, said one respondent. "The retailer creating reasons/experiences for shoppers to want to go in-store and break their curbside/delivery habits."
Other responses included:
"Attractive and informative displays with effective consumer marketing elements will still drive the highest lift."
"Exclusive products and innovative merchandising."
"Experiential marketing. Give shoppers a reason to go to the store. Something that they cannot experience from the comfort of their own home."
"On-shelf signage, merchandising complementary items together, building brand awareness online so that the consumer is familiar prior to in-store shopping, and on-shelf promotions."
Retailer Loyalty Programs — Engagement 
Focusing further on engagement, we asked what factors contribute to a retailer's loyalty program, offering the best opportunities for engaging shoppers.
"Being able to do precision targeting," said one respondent, offering an example. "Target is able to target select segments (e.g., demo, lapsed, category, etc.) in their loyalty program."
"The ability to tap into the retailer's loyalty data for targeted programming to meet specific objectives of the manufacturer," said another.
"The ability to engage shoppers at the point of decision and the ability to read the long-term result of that engagement," answered another. "Sampling is a great example. It's one thing to know the immediate impact, but the worth is the impact over the next two or three occasions."
A few of the respondents would like to see more from retailers in this area. For example:
"I would say making it easy to see offers both in-store and online. I'm not sure if any one retailer has a grasp on this yet, at least not in the adult-beverage category."
"I don't see any retailer doing anything unique in this space to build true loyalty/love for the retailer."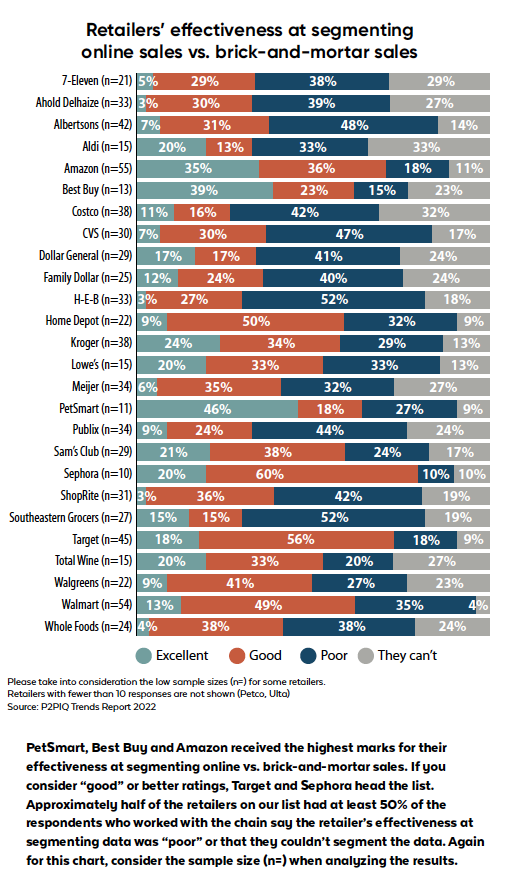 FOR A DEEPER DIVE into the survey and its results, see the "Summary of Findings."
SURVEY METHODOLOGY: In October and November 2021, marketing executives at U.S.-based consumer product manufacturers were emailed a questionnaire to be completed online. The names were drawn from Path to Purchase IQ magazine subscribers, Path to Purchase Institute members and others in the EnsembleIQ database, with an emphasis on people with manager, director or senior executive titles. From those emails, 122 executives submitted surveys. Each respondent was entered into a drawing for one of four $100 Amazon gift cards.