Facial tissue boxes, typically designed in neutral or simple patterns, have long been items that blended into the background. Kimberly-Clark's Kleenex sought to challenge this perception with the launch of a Target-exclusive tissue pack aimed at celebrating and sparking conversation about design, diversity, women and the planet. 
The Kleenex "Celebrate the World Around Us" SKUs rolled out to Target stores and Target.com in January, encompassing four 120-count tissue boxes in one of eight designs created by:
Nerissa Thomas, creator of Rose Merry Designs, from Niagara Falls, Ontario, Canada, 
Sara Alfaraj, an artist of British and Middle Eastern heritage, or 
Shruti Shyam, a visual designer currently based in New York.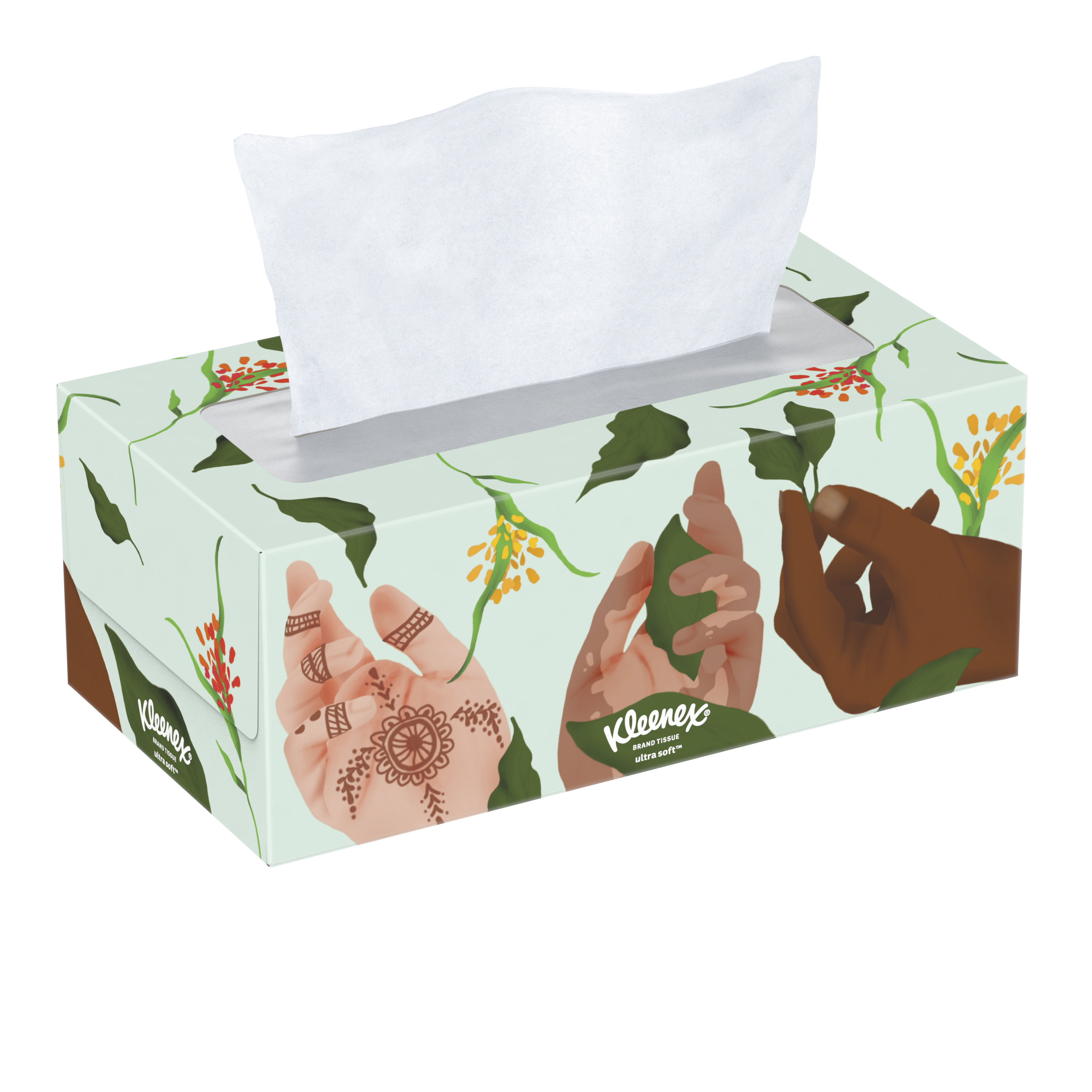 Varying by pack, designs in the collection depict vibrant images and scenes, such as a chameleon in a lush, green jungle background; multiple people with different skin and hair colors; and hands with henna tattoos or vitiligo. Kay James Design, Appleton, Wisconsin, helped the brand find the designers to create the packaging. 
Launching the pack in the first half of the year made sense for the brand as it coincided with February's designation as Black History Month, Women's History Month in March and Earth Month in April. "We wanted to find something that could really celebrate all of those moments," Leah Boileau, associate brand manager, shopper marketing, at K-C, to the Path to Purchase Institute, adding that the pack will be available through June.
Considering the mass merchant's shoppers and its exclusive apparel launches, Target felt like the natural retailer partner for this endeavor. "Target is kind of known for their exclusive launches, their design-centric collections," Boileau said. "Their [shoppers] are looking for that elevated style, right? And typically, their [shoppers] are also a little bit more aware, socially conscious, [and] looking for their purchase to mean a little bit more and have a purpose behind it." 
The brand's target shoppers when developing the program were Millennials and Gen Xers that "fall into that style-seeker category," Boileau said. "So by elevating our designs to stand out and work as ... [pieces] of artwork displayed in the homes or their spaces, we're speaking to those style-seekers."
The retailer also was involved in selecting and narrowing down the final eight designs. "Target is really good at pushing their vendors to think outside the box and do something different. Do something exciting," Boileau noted. "How are you going to change and grow the category?"
Influencer support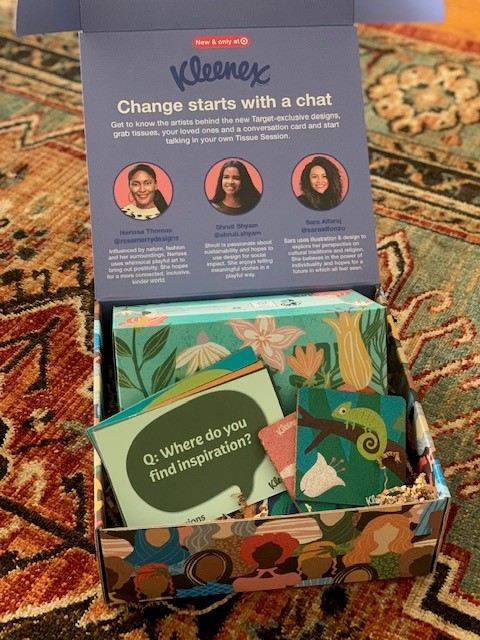 To drum up support for the packs, the brand teamed with Target's Roundel to tap the retailer media network's Influencers by Roundel solution, powered by influencer marketing platform LikeToKnowIt (LTK), to identify 10, female Instagram influencers that could promote the packs in March, April and May. Influencers also were sent Target- and Kleenex-branded kits filled with a tissue box, coasters mirroring the designs on the boxes, and conversation cards asking questions, such as "Where do you find inspiration?" 
"Our theme is #TissueSessions, and it's kind of like the name that we're giving these conversations that people are having. You know, grab your pack of Kleenex, set it on the table, get into these discussions," said Boileau, adding the brand also enlisted Instagram influencers Target Does It Again to promote the packs and host a giveaway awarding kits to followers. "We are super proud of this."
Elsewhere online, a brand page within Target.com plugged the designers and employed an animated leaderboard ad that spotlighted various designs in the collection. In terms of creative, Boileau said the page was "some of our best work. The way that Roundel was able to pull those elements off of the packs and integrate them into the brand page — into our [online ads] — was really cool." 
The marketing plan also included an in-store endcap stocking the Celebrate the World pack and other Kleenex SKUs, an Instagram post from Kleenex, and a Target Circle digital offer in April. VMLY&R Commerce, Minneapolis, provided shopper marketing agency support from concept to execution.