Retailers, often with the help of brand partners, are increasing the use of technology to enhance the in-store experience. Having been a while since we rounded up in-store technologies in this space, we thought it was time for an update, especially given the recent uptick of in-person shopping and experiential marketing. Digital endcaps and signage seem to be increasingly popular — a way of drawing shopper attention as well as personalizing the shopper's experience at-shelf. Additionally, retailers are testing and introducing technology that will optimize store operations, perhaps also impressing shoppers with innovative technology. Here are some technologies that have caught the eyes of our editors.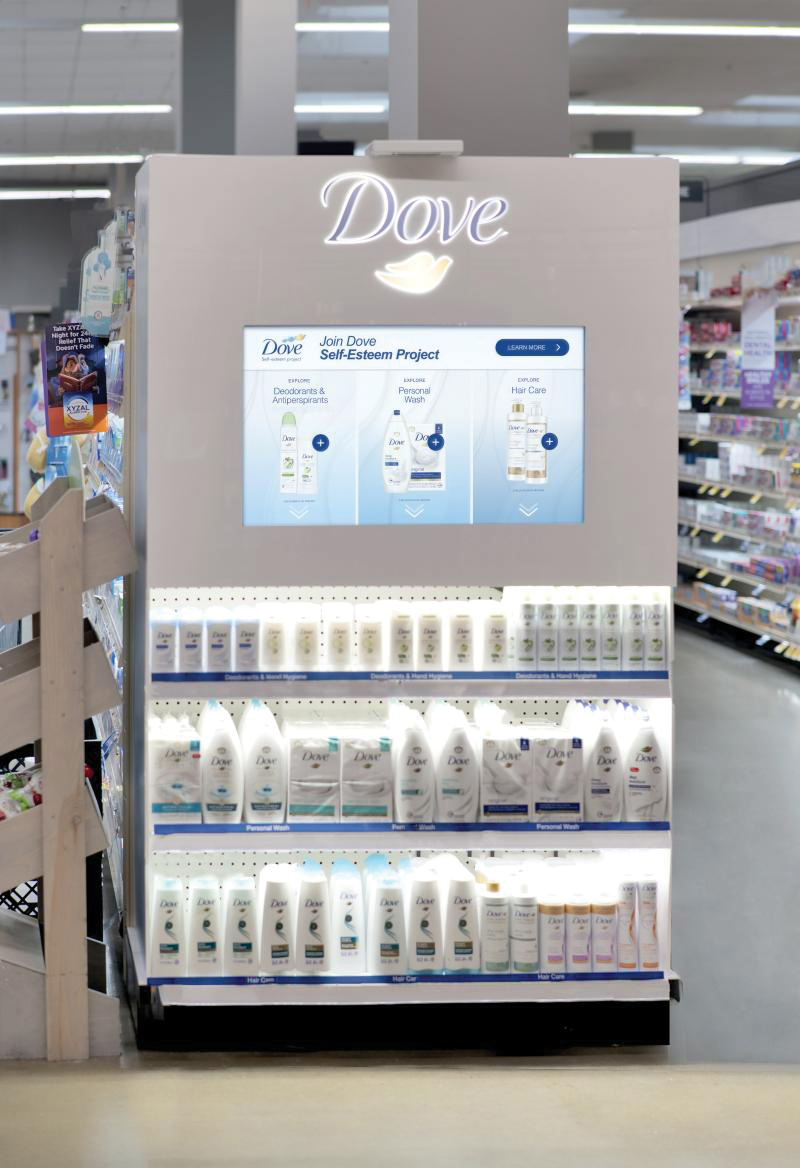 Ahold Delhaize's
Giant Food
deployed an in-store product engagement platform
from
Unilever
and retail marketing platform
Perch
this year at select Washington, D.C.-area stores. Located in the beauty section, the interactive endcaps include a glowing logo and illuminated shelves. Using Perch's "lift-and-learn" technology, a digital screen automatically senses what products shoppers touch and responds with videos and information about that same product. The shopper doesn't have to scan a QR code, touch a screen nor take any additional action. Perch's digital engagement platform employs computer vision to detect product behavior at the shelf, anonymously detecting the presence of shoppers, what products they touch, and what content they engage with to bring in videos, ratings and reviews and product information for every product on the shelf.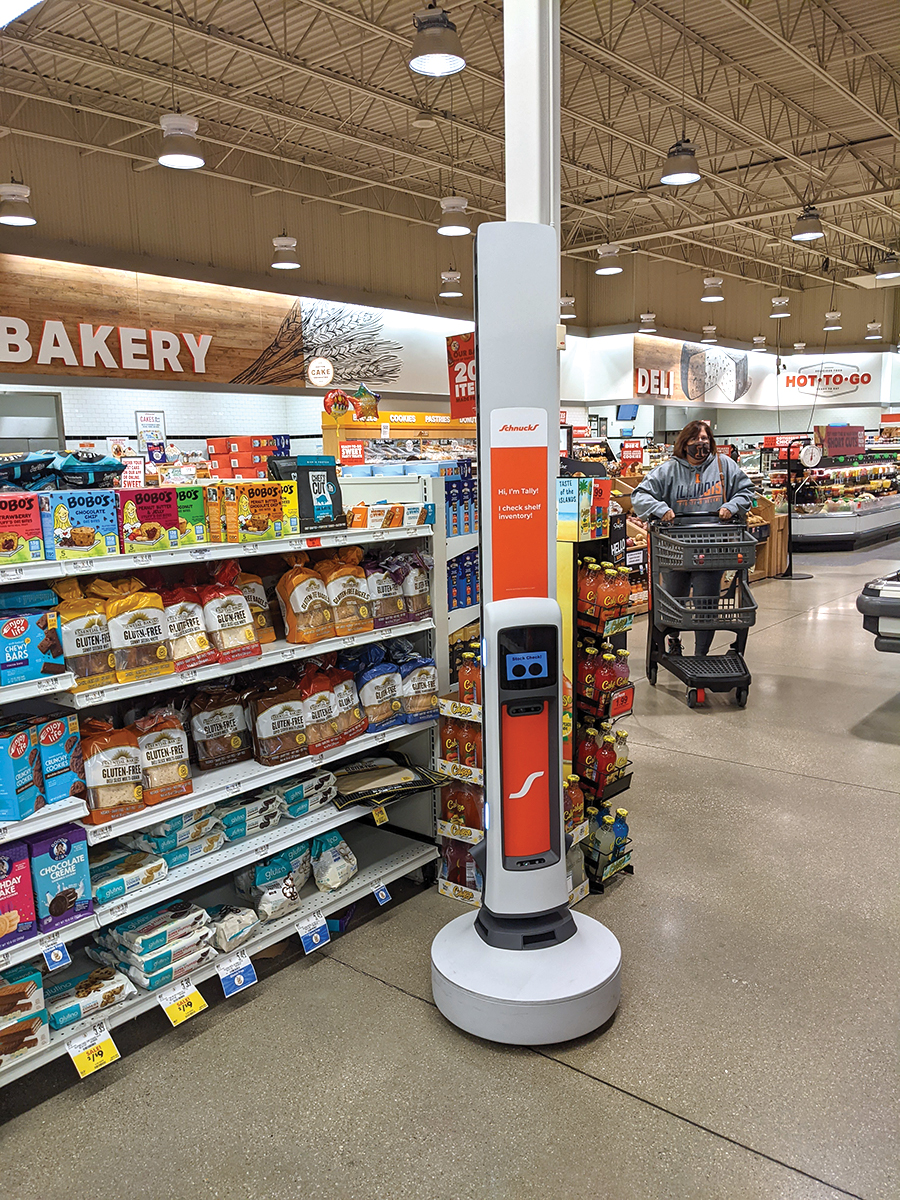 Tally robots from
Simbe Robotics
roam the aisles at more than 60
Schnucks Market
stores. The robots traverse the aisles up to three times daily, autonomously capturing on-shelf data, including inventory position, price accuracy and promotional execution. Schnucks piloted Tally in July 2017 and expanded it to additional stores in 2018 and then 2020. In the summer of 2021, the retailer signed a multiyear deal to roll out the robots to all stores, making Schnucks the first grocer in the world to use AI-powered inventory management technology at scale, according to a media release from the retailer.
Most Schnucks stores have a display outfitted with a "storytelling" tablet from North Carolina retail tech startup Looma. Looma's program, known as Loop, highlights winemakers and brewers behind various BevAlc brands, such as Lagunitas Brewing Co., by playing short videos on the tablet. As of August 2021, 89 Schnucks beer and wine departments had a tablet installed.
Select Hy-Vee stores operate a large digital showroom wall in partnership with Designer Brands' Designer Shoe Warehouse (DSW) at store-within-a-store locations, which first launched in 2020. Conjoined, in-sync video screens play advertisements on loop and are positioned adjacent to the shoe display wall within the dedicated in-store shop, usually displaying 100 of the top-trending shoes of the season. Additionally, shoes on the wall can be ordered via a QR code from DSW.com and shipped directly to a shopper's home or to the store's DSW pickup locker.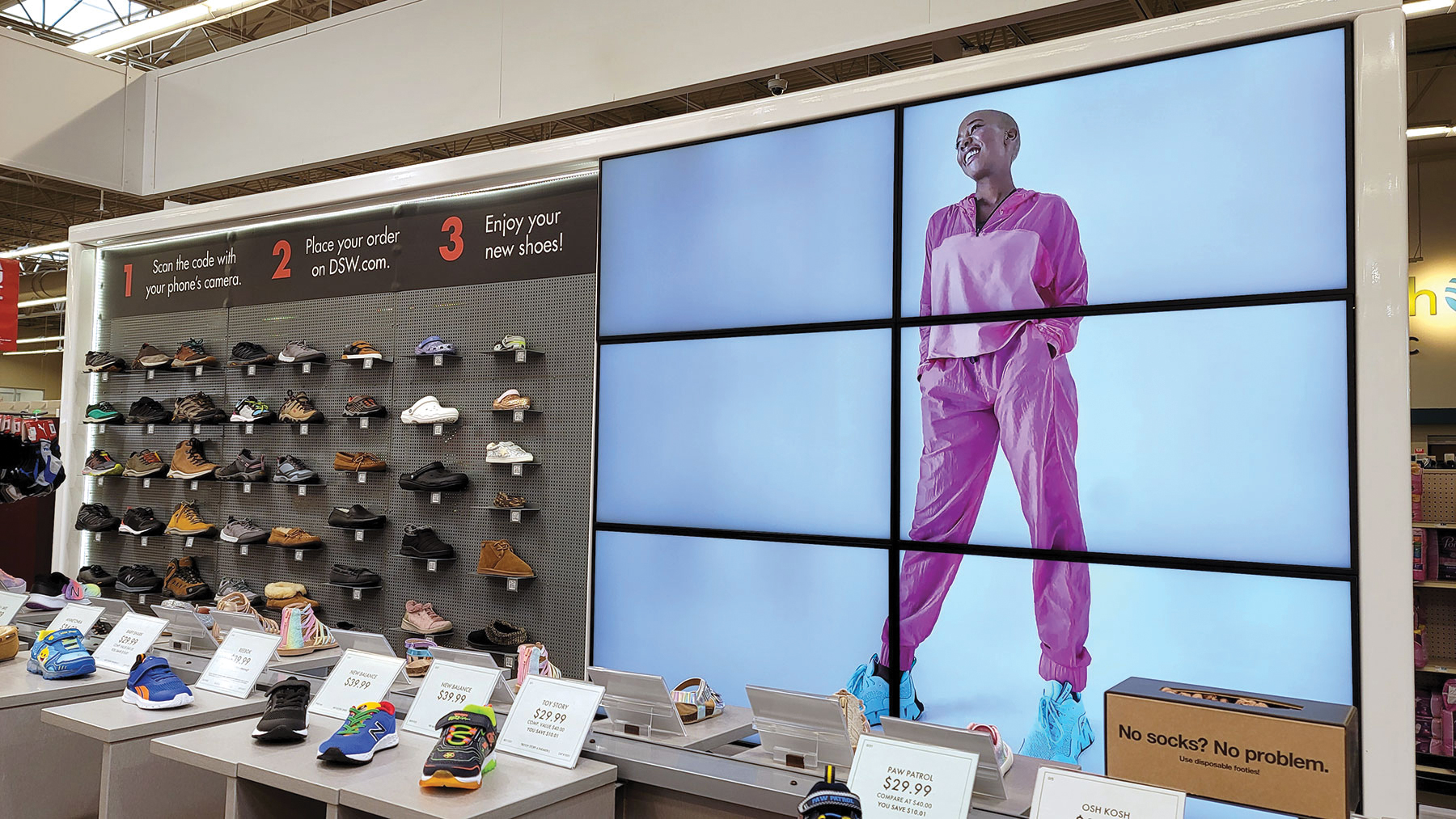 Meijer rolled out an in-store product engagement platform for pet products from Perch and Nestle-Purina at 200 of the Midwest retailer's stores in 2021. Powered by Perch's "lift-and-learn" technology, the interactive endcap display reacts to what specific item a shopper is considering by playing a video that shares information about Purina products and ingredients. This endcap also stocked other products from the manufacturer under a "Your Pet, Our Passion" header. (View update at bottom for another example.)
Revolution Beauty London has enjoyed secondary merchandising space at select Target stores via endcap displays outfitted with a blinking, larger-than-life eyeshadow palette. Employing a "you are the revolution message," the faux eyeshadow palette has 18 multicolored squares resembling shades, such as orange, pink and blue with what looks like glitter. The display has lights behind each shade to randomly highlight select colors.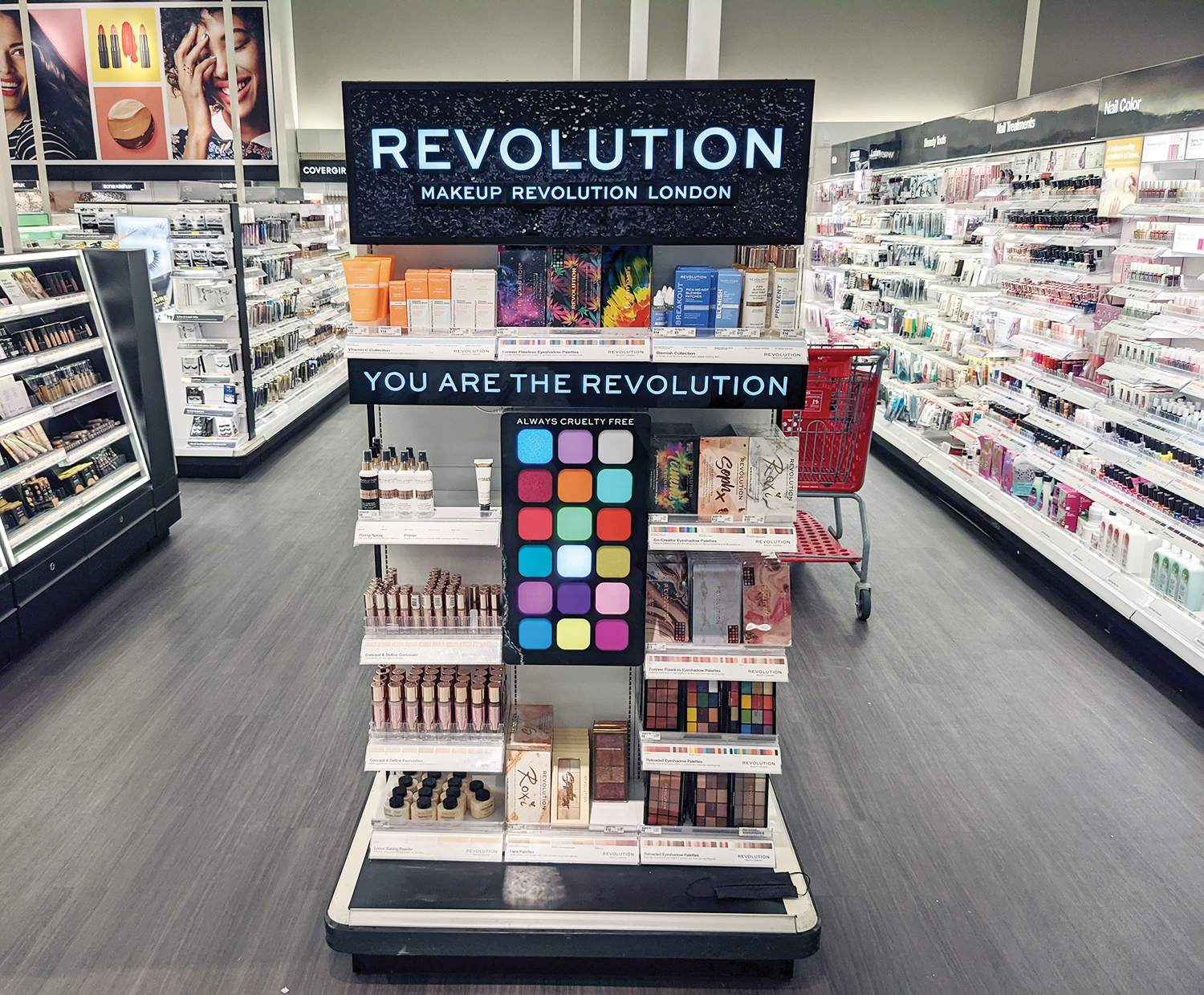 CVS Pharmacy has rolled out a number of digital endcaps outfitted with LED screens and touchscreens, brightening up the store with illuminated shelves at new and revamped stores — an effort that began when the retailer introduced its growing HealthHUB format in 2019. The screens play various visuals and advertisements on a loop, mostly spotlighting different items found in the store, including private label and national brand products, and directing shoppers to CVS.com for an expanded assortment through a "touch to explore" call-to-action.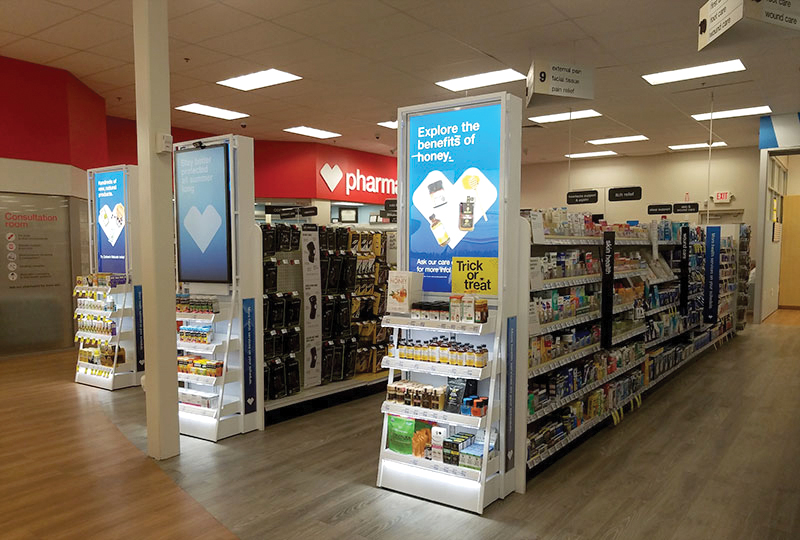 Ahold Delhaize's Stop & Shopin 2019 began piloting "The Breadbot," a fresh breadmaking machine, at a store in Milford, Massachusetts. Also known as "The Mini Bakery," the Breadbot mixes, forms, proofs, bakes and cools 10 loaves of artisanal bread at a time. The breads come in a variety of flavors; although availability varies based on demand. To operate it, shoppers choose how they would like their bread using the touchscreen on the machine. They can choose to have an unsliced, hot loaf that they can take home after baking in a provided paper bag or they can select a sliceable loaf and use the new self-slicer machine located adjacent to the Breadbot. Stop & Shop teamed up with the Wilkinson Baking Co. to install the machine.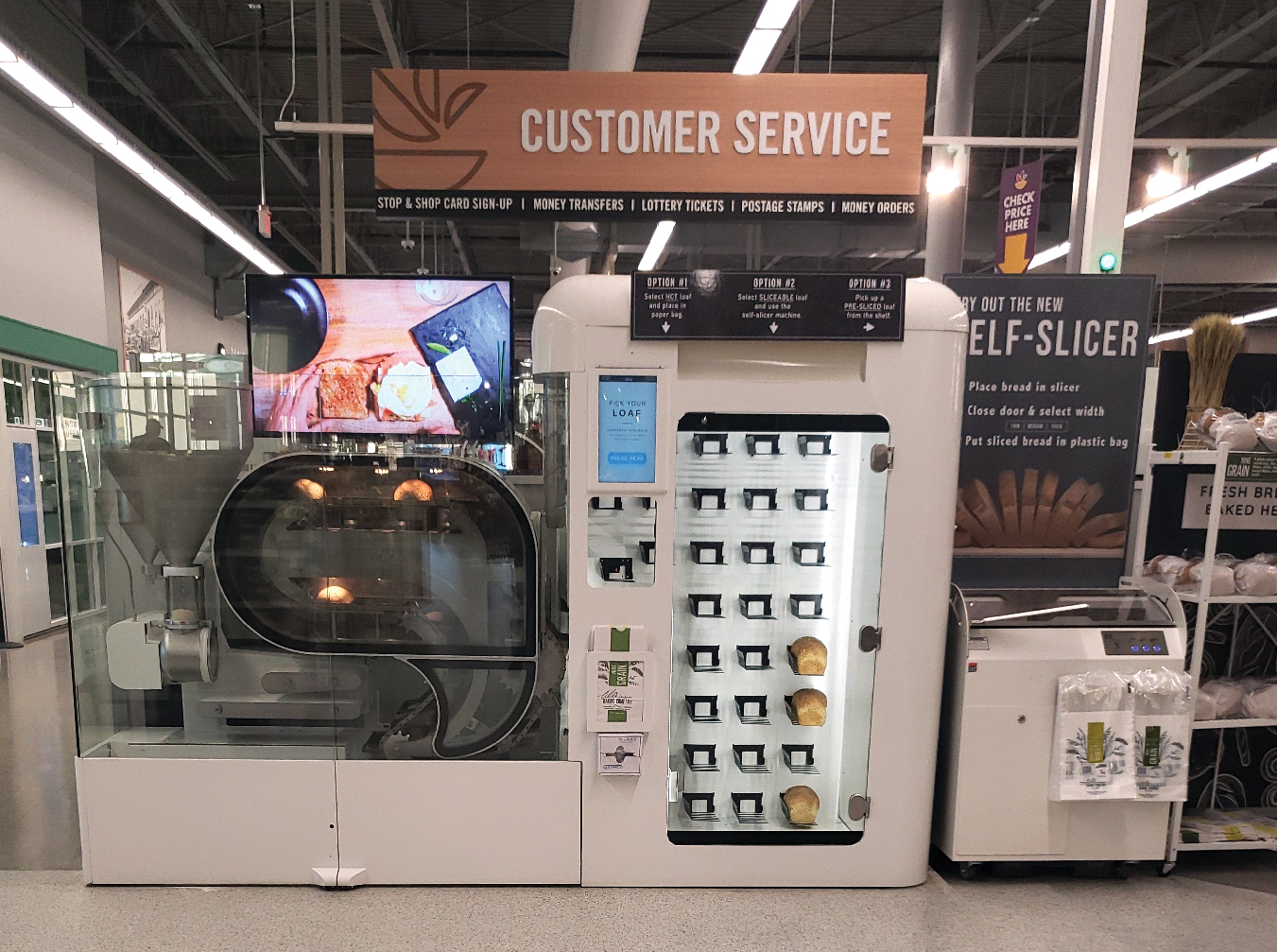 Located in Rite Aid's redesigned "Store of the Future" is an eco-friendly "Hydrate for Health" water dispensing machine that stocks reusable water bottles and lets shoppers fill them up. The dispenser is positioned near the checkout next to Amazon lockers for pickup orders.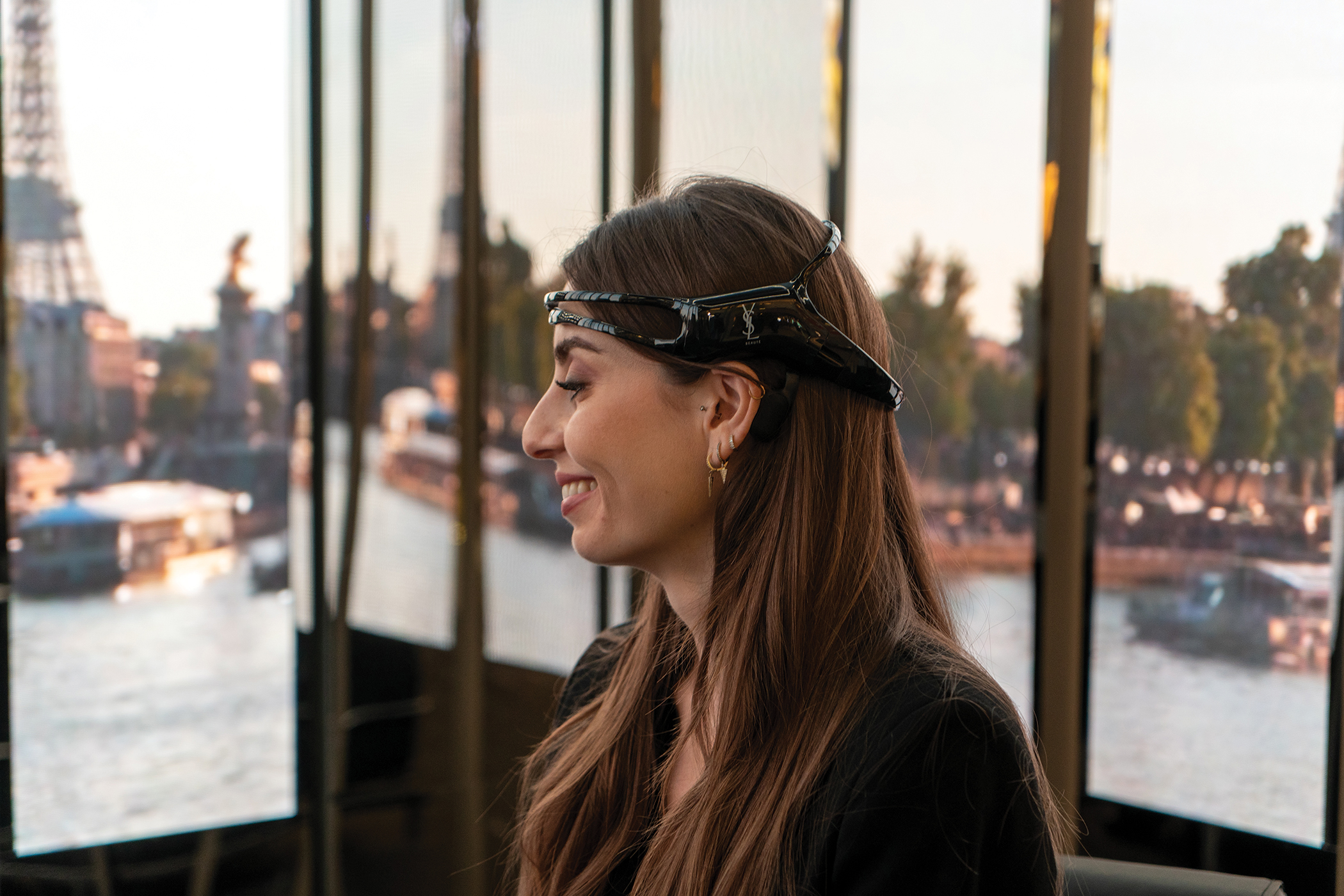 L'Oreal's technology incubator and its Yves Saint Laurent brand partnered with neurotechnology company Emotiv to create a branded device that helps consumers determine their perfect scent suited to their emotions. The partnership combines an Emotiv neurotech device with proprietary scents and algorithms by L'Oreal to create a fragrance consultation experience that connects neural responses to fragrance preferences through a multisensor EEG-based headset, which is a diagnostic test to monitor brain activity. The experience is available worldwide in Yves Saint Laurent flagship stores (see "In-Store Experience") in multiple countries through 2023.