Each year in late January and early February leading up to the Super Bowl, National Football League sponsors (e.g., PepsiCo/Frito-Lay) and many other CPG marketers try to command attention across retail with prominent in-store and online activity. And this year, the Super Bowl hype coincided with Winter Olympics marketing. Path to Purchase Institute editors noticed that sports-related displays and digital marketing efforts stepped up in 2022 after last year's less-than-ubiquitous presentation due to the COVID-19 pandemic. Here is a sampling of activity, including a few examples beyond football and the Olympics. Institute members can view many more activations in the image vault at P2PI.org.
Longtime NFL sponsor PepsiCo/Frito-Lay activated its Super Bowl LVI halftime show sponsorship across retailers, including at Meijer with branded power wings sandwiching an endcap. The display stocked Mountain Dew and Pepsi beverage SKUs, while the wings invited shoppers to scan a QR code to download the Pepsi Super Bowl Halftime Show mobile app and access exclusive content.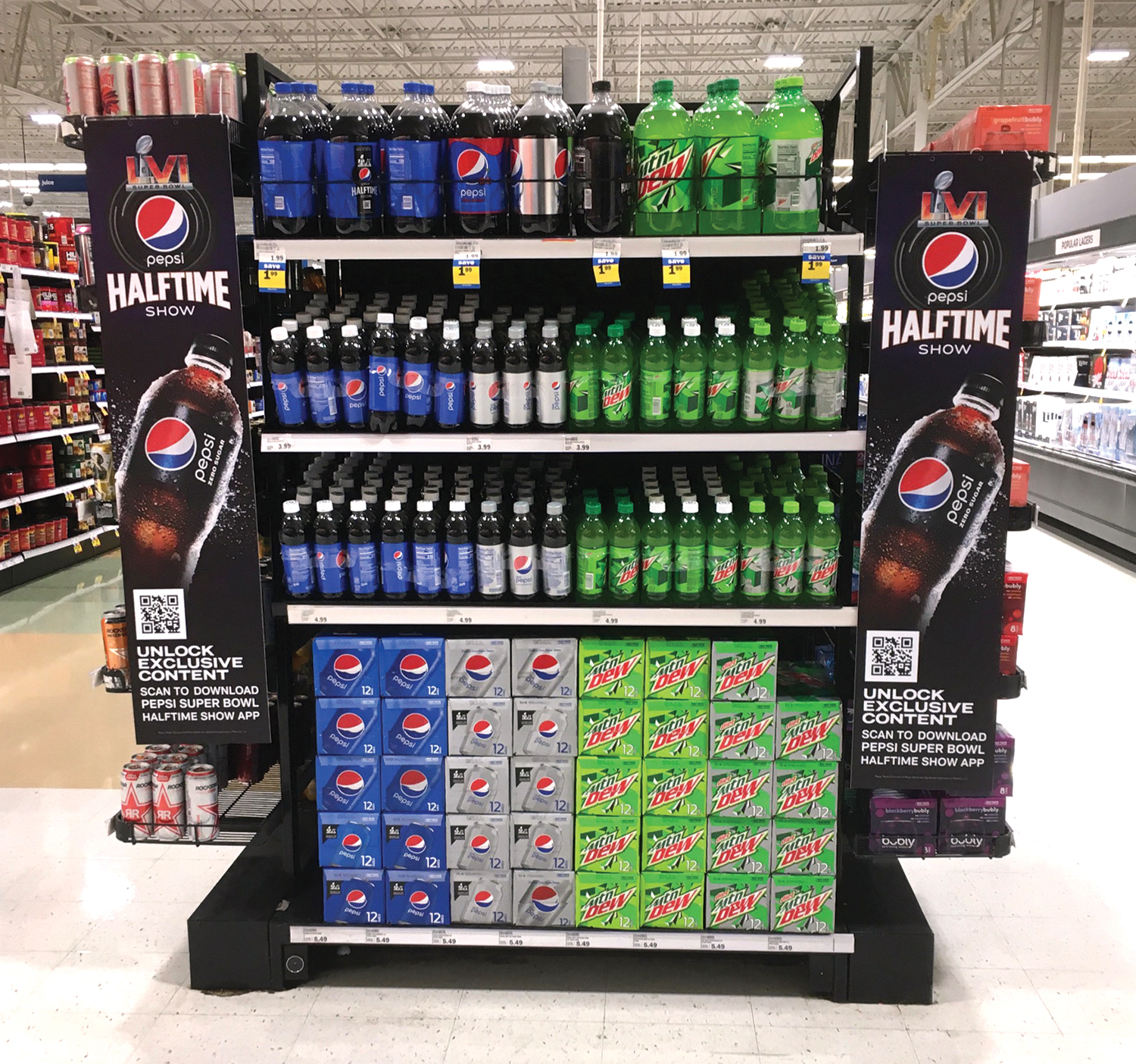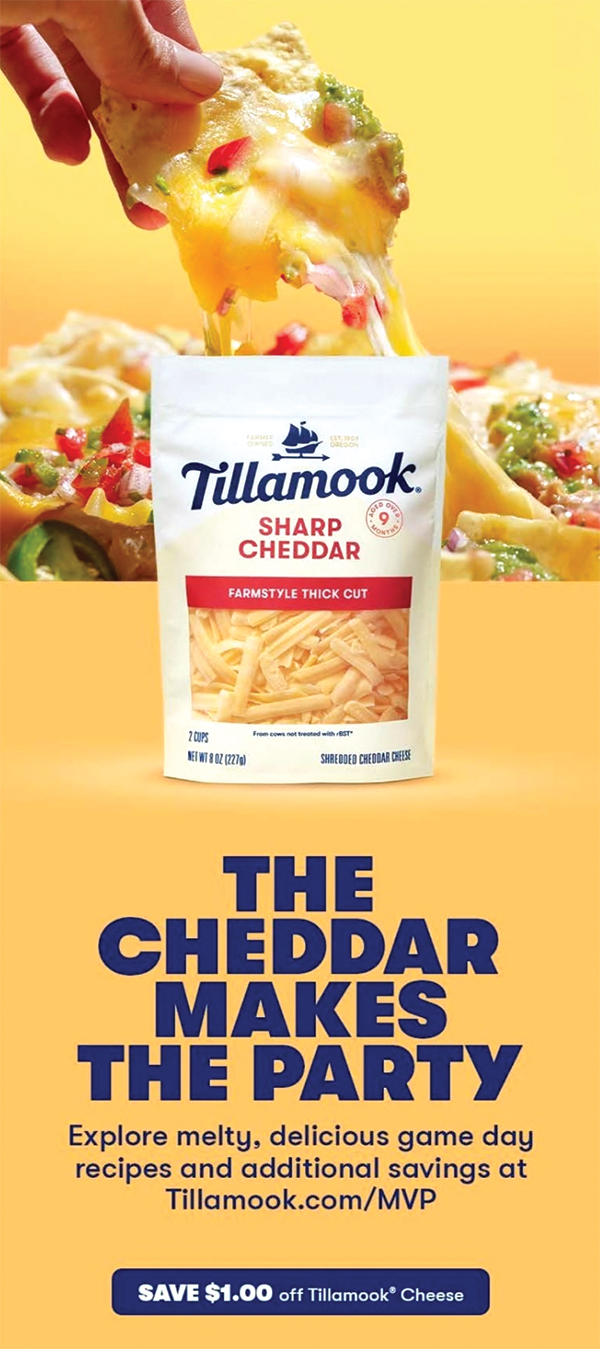 Ahold Delhaize's U.S. grocery chains, including Giant Food, supported dairy co-op Tillamook's Big Game efforts this year with a full-page feature in its digital circular from Feb. 4 that communicated "The cheddar makes the party" messaging. The feature dangled a $1 coupon for Tillamook cheese SKUs while linking to the brand's dedicated microsite, Tillamook.com/MVP. The site offered game-day activities such as downloadable football squares, recipes and a special rebate offer via Catalina Marketing.
Unilever mayonnaise brand Hellmann's deployed a unique football-themed display at Southeastern Grocers' Winn-Dixie, comprising an inflatable player on top of a floor cling that resembled a football field and was surrounded by themed floorstands communicating a "Make a deliciously good call" message. An unboxed Weber grill positioned in front of the display enticed game-day grilling.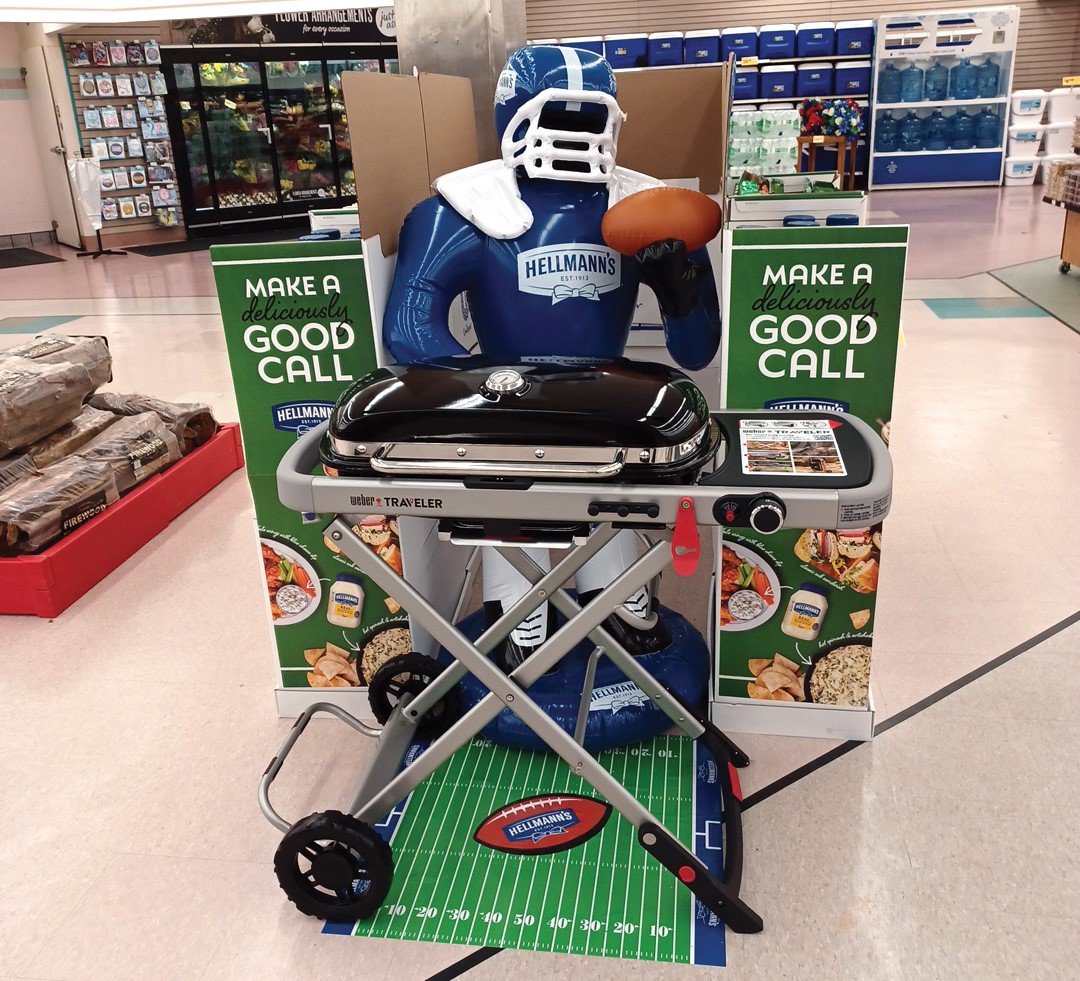 Avocados from Mexico (AFM) returned as a Big Game advertiser with an omnichannel campaign designed to drive awareness and engagement, as well as increase purchase intent and place avocados on the digital shelves of 40 retailers. At the center of AFM's digital activation was the "House of Goodness," a virtual home "hosted" by former NFL star Drew Brees. The experience — an AFM microsite — gave visitors a first-hand look into the world of avocados as well as several unique experiences, including taking a selfie with Brees, watching the brand's Big Game TV spot, discovering new guacamole recipes and purchasing avocados directly at various shoppable touchpoints. This year's campaign also included a limited-time pop-up experience, in-store QR codes that link to AFM's website and a new partnership with e-commerce enablement platform MikMak.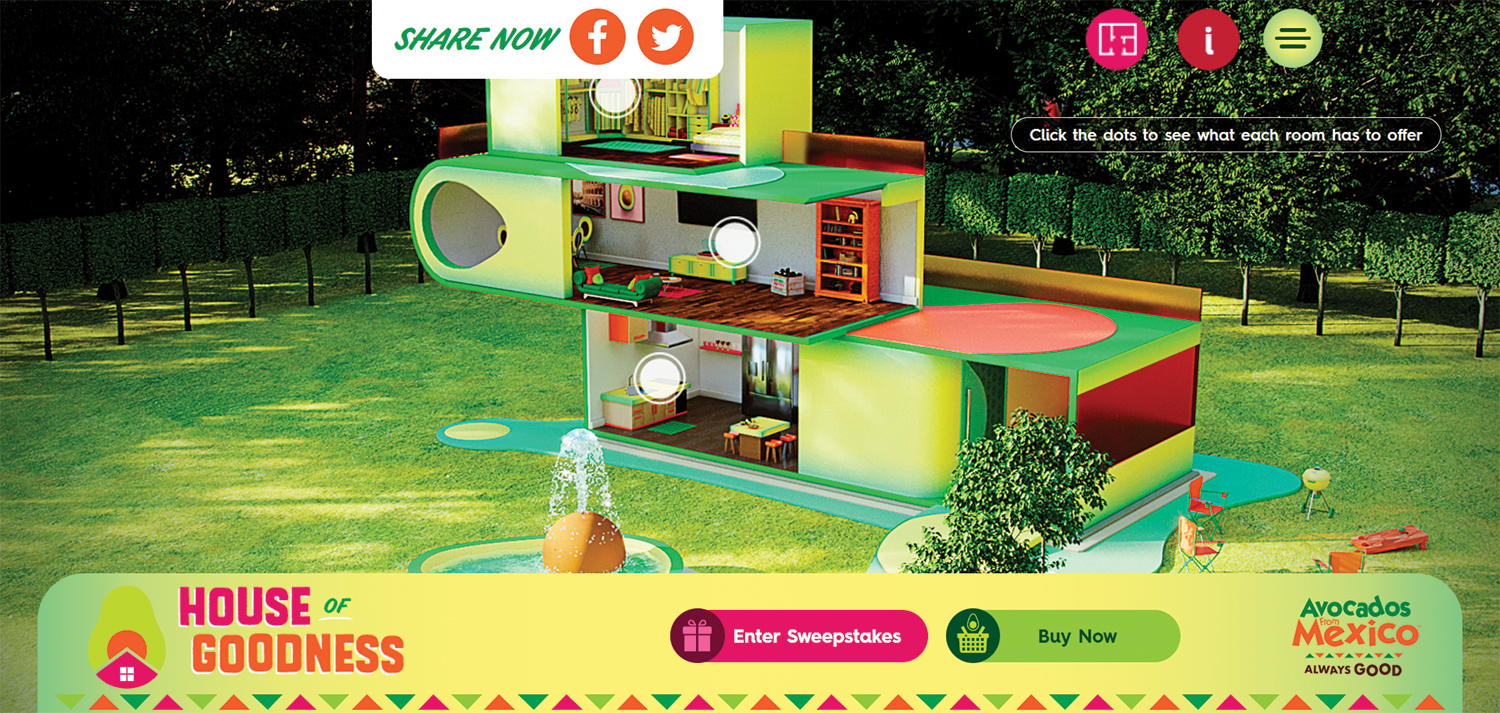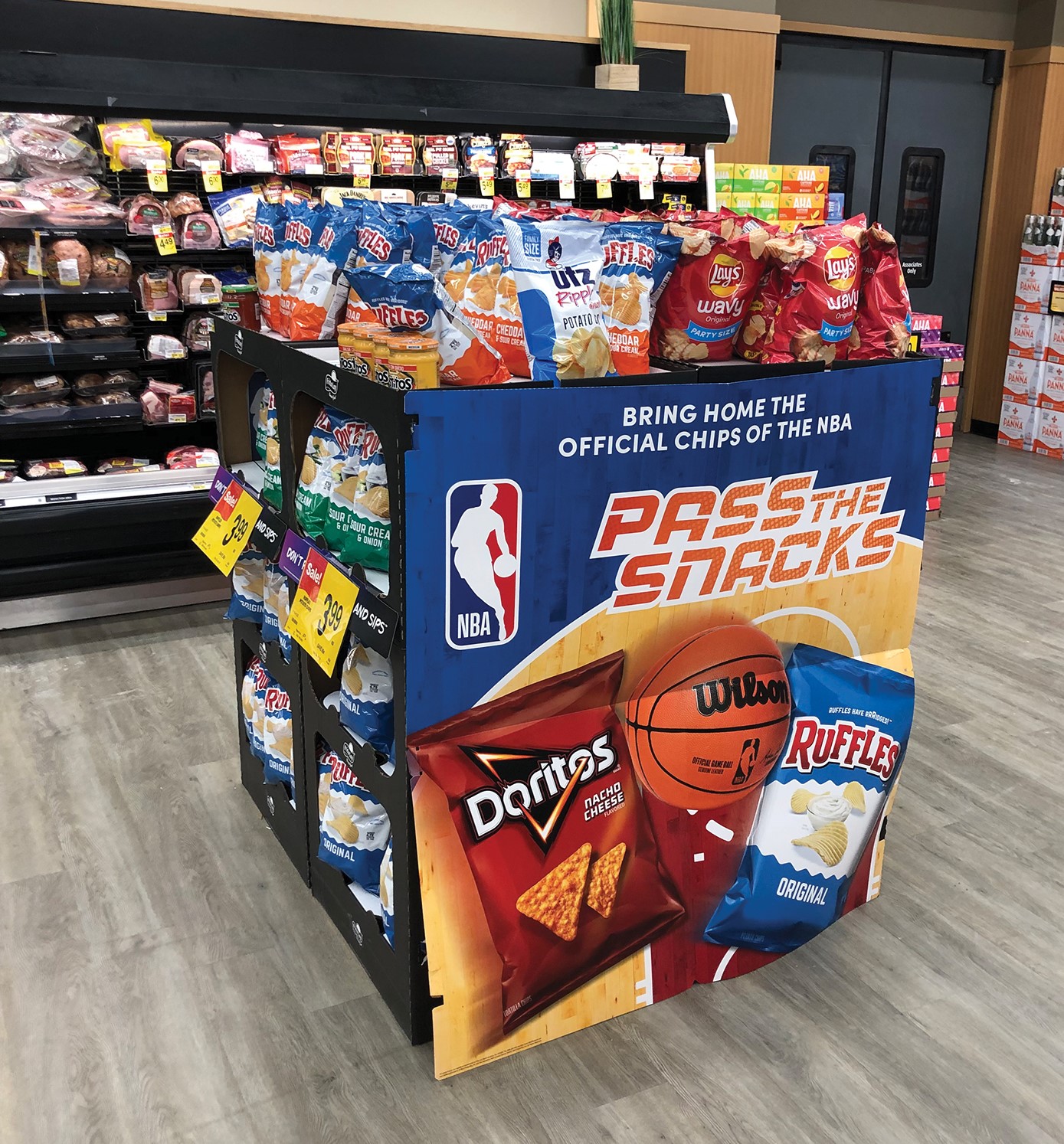 National Basketball Association sponsor
PepsiCo/Frito-Lay
deployed themed floorstand displays merchandising various chip brands, including Lays, Doritos and Ruffles, at retailers including
Jewel-Osco
. The floorstands were united with a "Pass the Snacks" corrugated sign on the side, inviting shoppers to "Bring home the official chips of the NBA."
Schnuck Markets stores gave national beer and liquor brands the spotlight through displays and signage. Boston Beer Co.'s Twisted Tea tied in to the college football season in Champaign, Illinois, with a spectacular depicting the logo for the University of Illinois.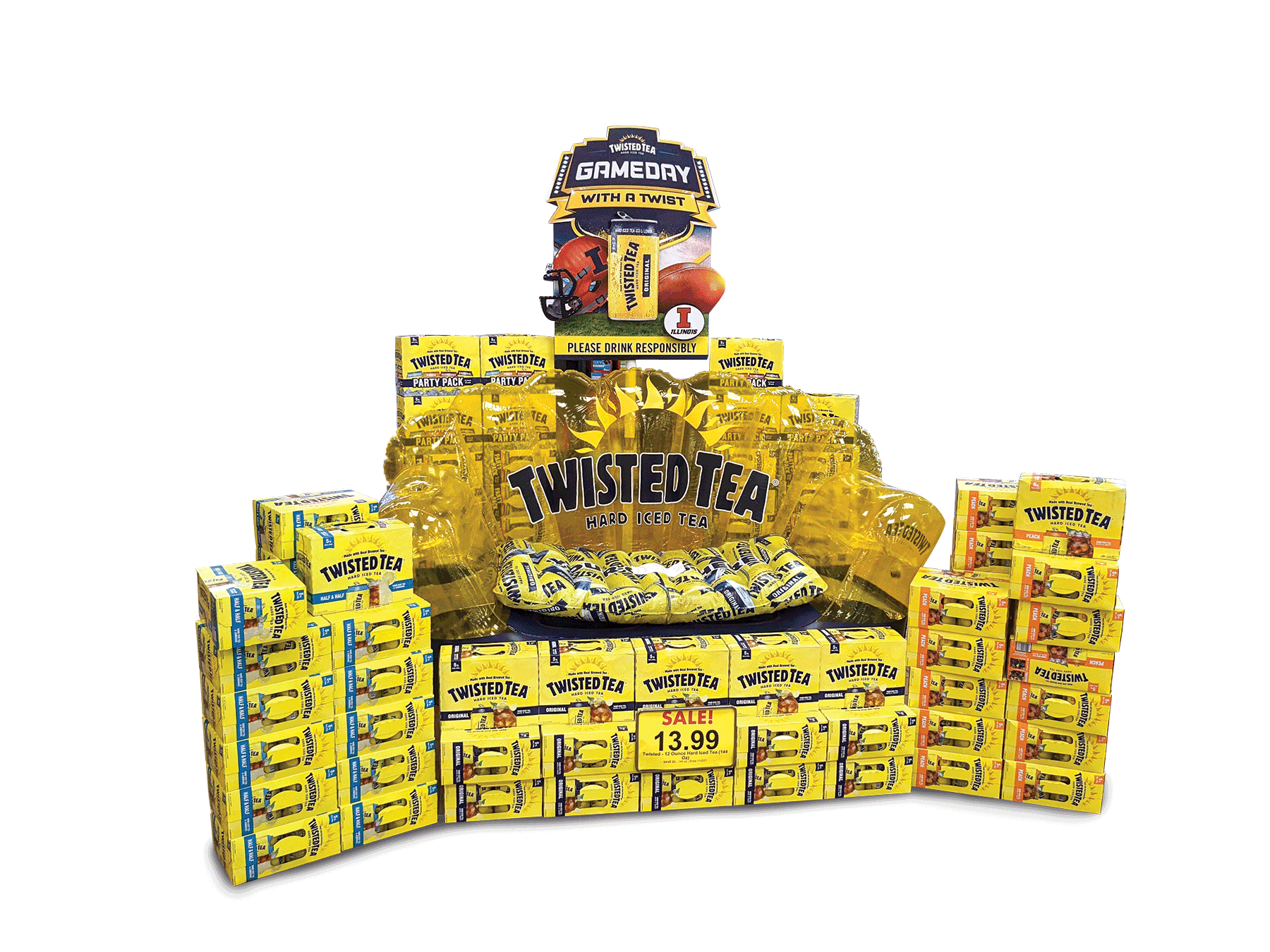 Procter & Gamble's Gillette sent SMS subscribers a text message in January (in the midst of the NFL playoffs), dangling a free team-themed razor stand of their choice if they used a dedicated code on purchases through Jan. 17. The message linked to a product detail page where shoppers could select a stand, available with 32 team logos.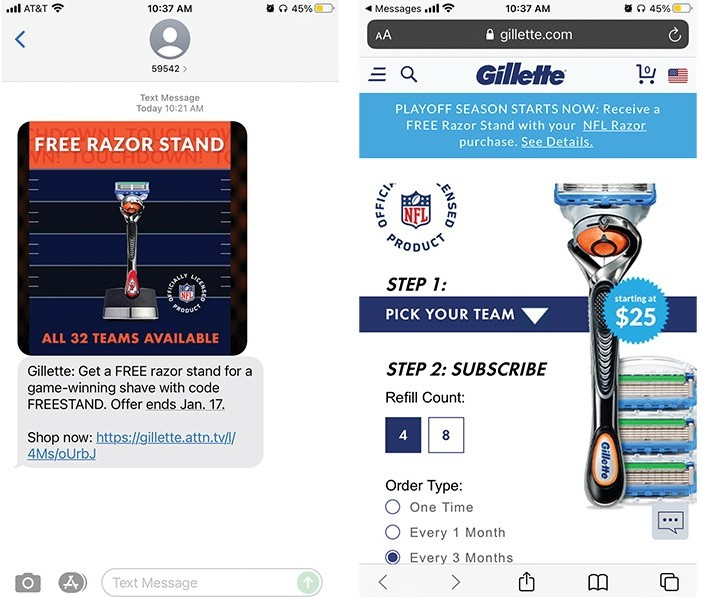 PepsiCo brought soccer to the forefront at several retailers by activating its official sponsorship of the UEFA Champions League competition. In Walmart stores, endcaps stocking PepsiCo beverages were outfitted with bilingual headers touting "The Perfect Match" — in reference to both a regulation soccer game as well as the pairing of Pepsi beverages with Lay's chips. A supporting showcase within Walmart.com depicted Argentina national team captain and Paris Saint-Germain forward Lionel Messi. The display dangled a free soccer ball and water bottle with the combined purchase of a discounted bundle comprising a Pepsi 36-pack and a Lays 40-pack, while supplies lasted. The showcase also offered a much pricier bundle comprising a ball signed by Messi.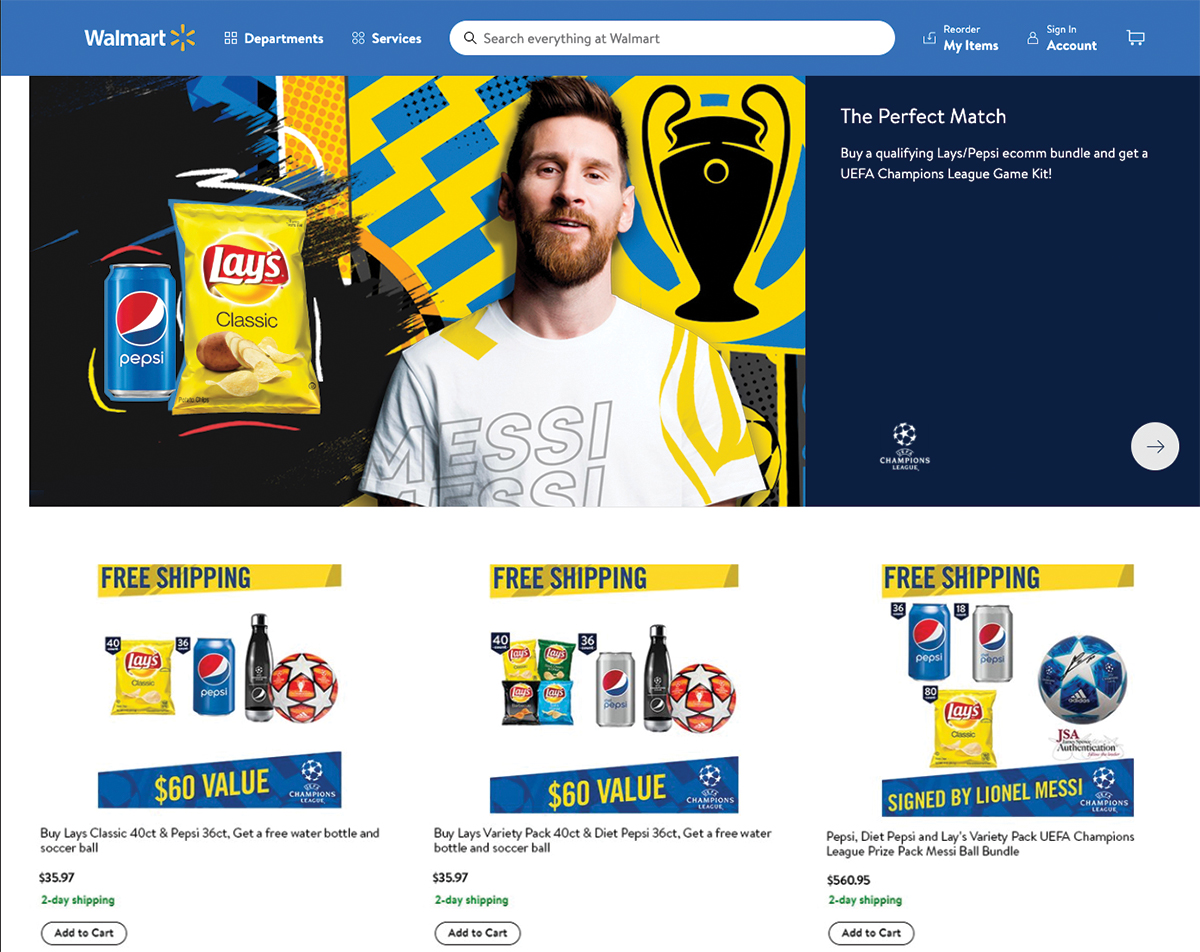 PepsiCo secured an Amazon.com showcase that plugged the UEFA Champions League and depicted Paris Saint-Germain's Lionel Messi, Manchester United's Paul Pogba and Netherlands women's national team player Lieke Martens alongside a "The Perfect Match" message. The page offered a variety of Pepsi and Lay's SKUs for purchase and positioned Amazon as the official English language partner of the UEFA.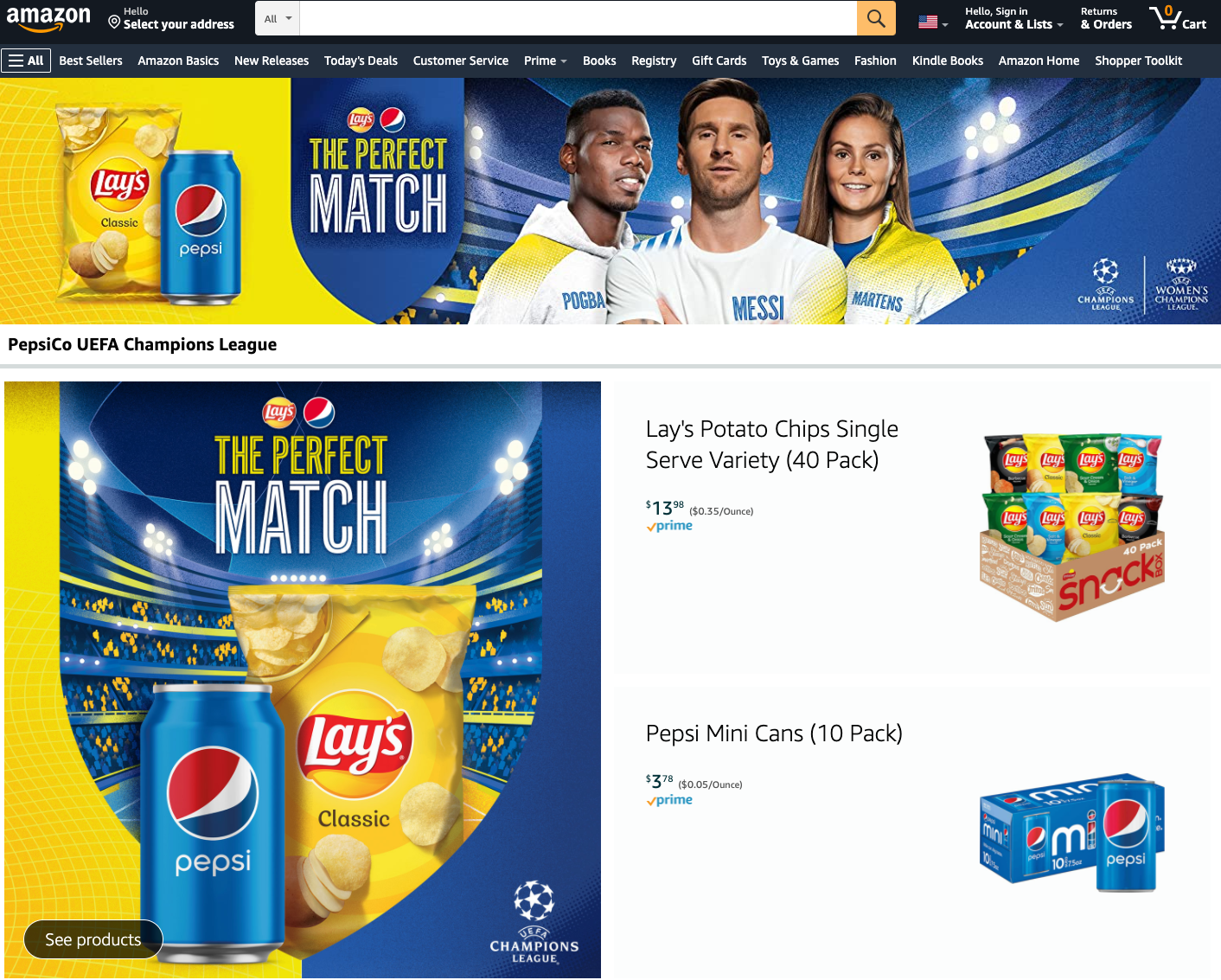 In the week leading up to the Big Game, Smithfield Foods teamed up with Albertsons Cos.' Jewel-Osco for an account-specific collaboration. Smithfield positioned its game-day essentials in a small feature in Jewel's Feb. 2 circular, communicating a "Straight from the stadium, bring home over-the-top tastes" message and depicting a QR code for recipes. The code linked to a dedicated brand shop within the retailer's website, listing a slew of meats and game time offerings from the manufacturer as well as the ability to filter by category.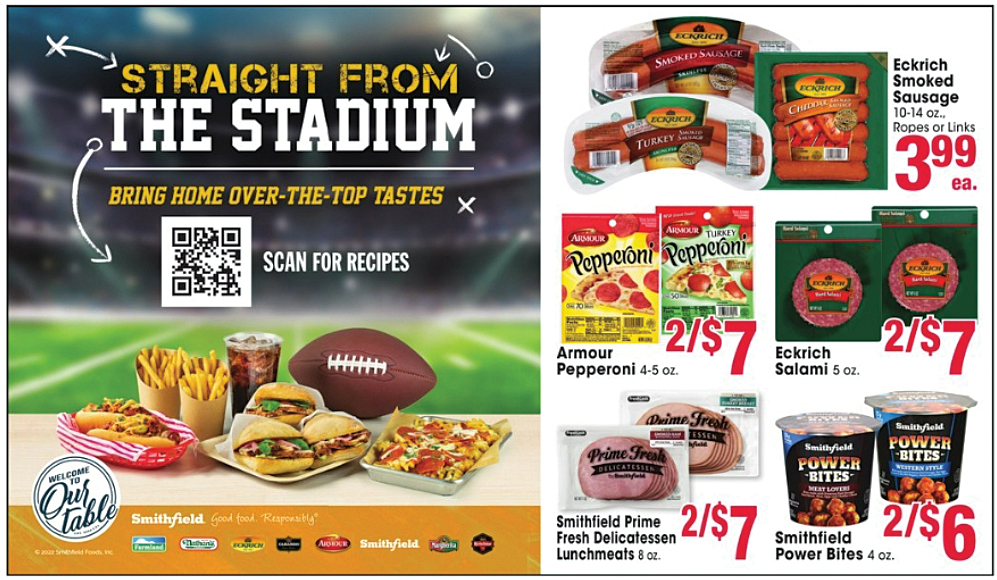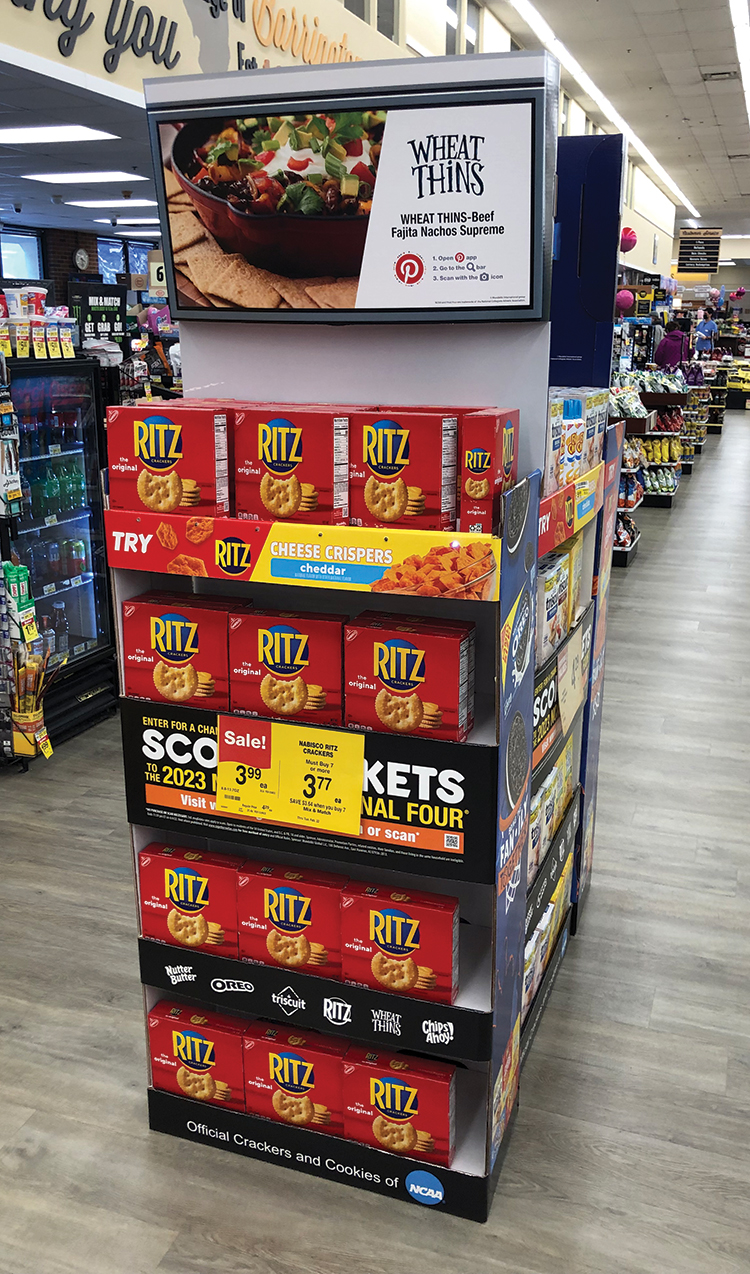 National Collegiate Athletic Association sponsor
Mondelez International
promoted its March Madness efforts via floorstands spotted at
Jewel-Osco
. The four-sided, co-branded displays merchandised the "official crackers and cookies of the NCAA" (i.e., Ritz, Oreo, Nutter Butter, Triscuit, Wheat Thins and Chips Ahoy) while touting a sweepstakes awarding tickets to the 2023 men's Final Four. A QR code depicted on the floorstands directed to a dedicated entry site (TogetherWeFan.com). In addition, one side of the display integrated pincodes — which are Pinterest's spin on QR codes – to view a recipe for Wheat Thins beef fajita nachos supreme on the social platform.
NCAA sponsor Coca-Cola deployed a spectacular at Walmart that united multiple brands, including its namesake carbonated soft drink, Powerade, Sprite, Aha and Body Armor. The star of the display was Body Armor (and a large cutout of NBA player James Harden), as well as merchandising for the new purple "Mamba Forever" Body Armor variety. The flavor was created in partnership with the Mamba and Mambacita Sports Foundation, a nonprofit founded in honor of Kobe Bryant and his daughter, Gianna "Gigi." A sign affixed to the case stacks promoted the special SKU and included a QR code that directed shoppers to learn more about the organization.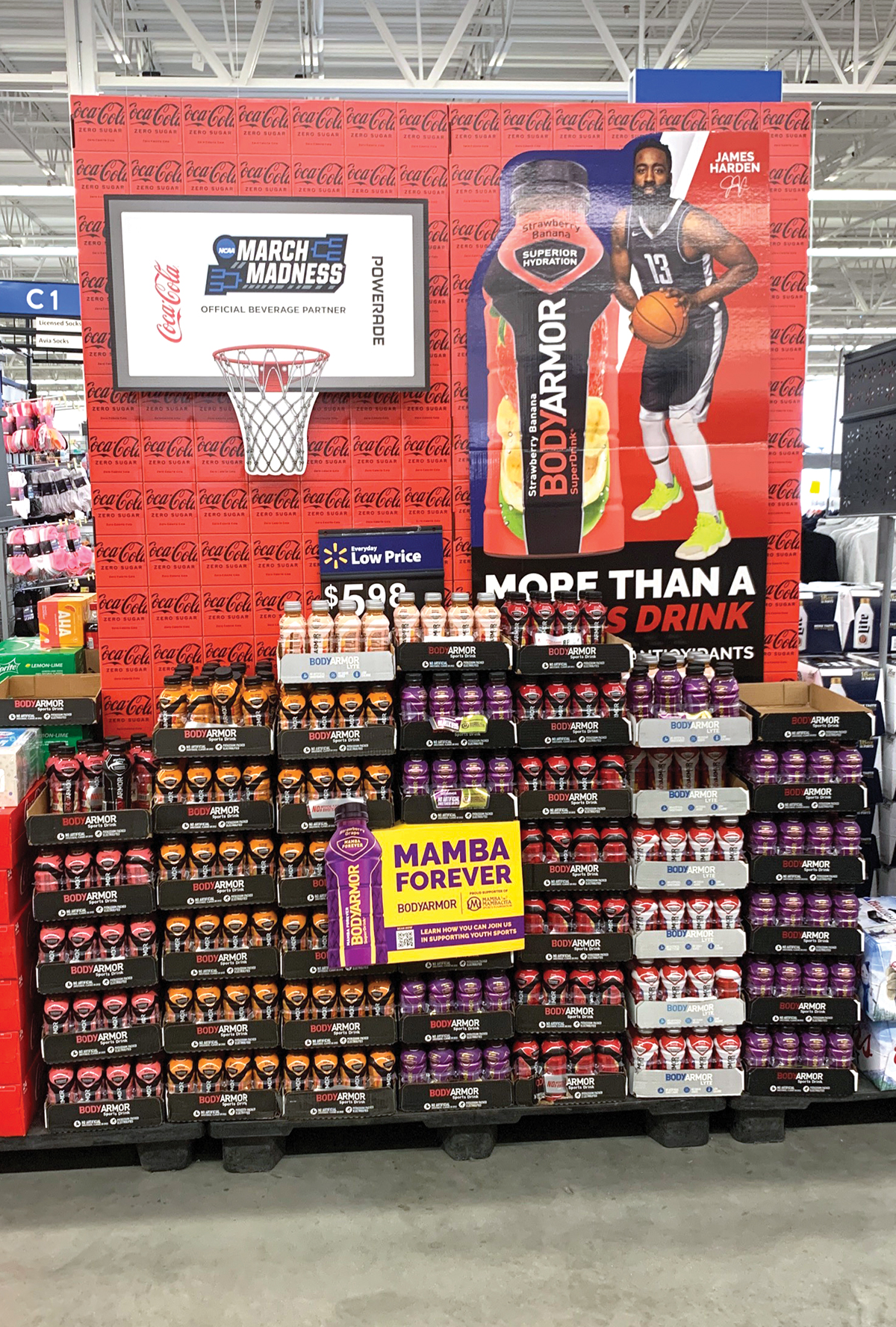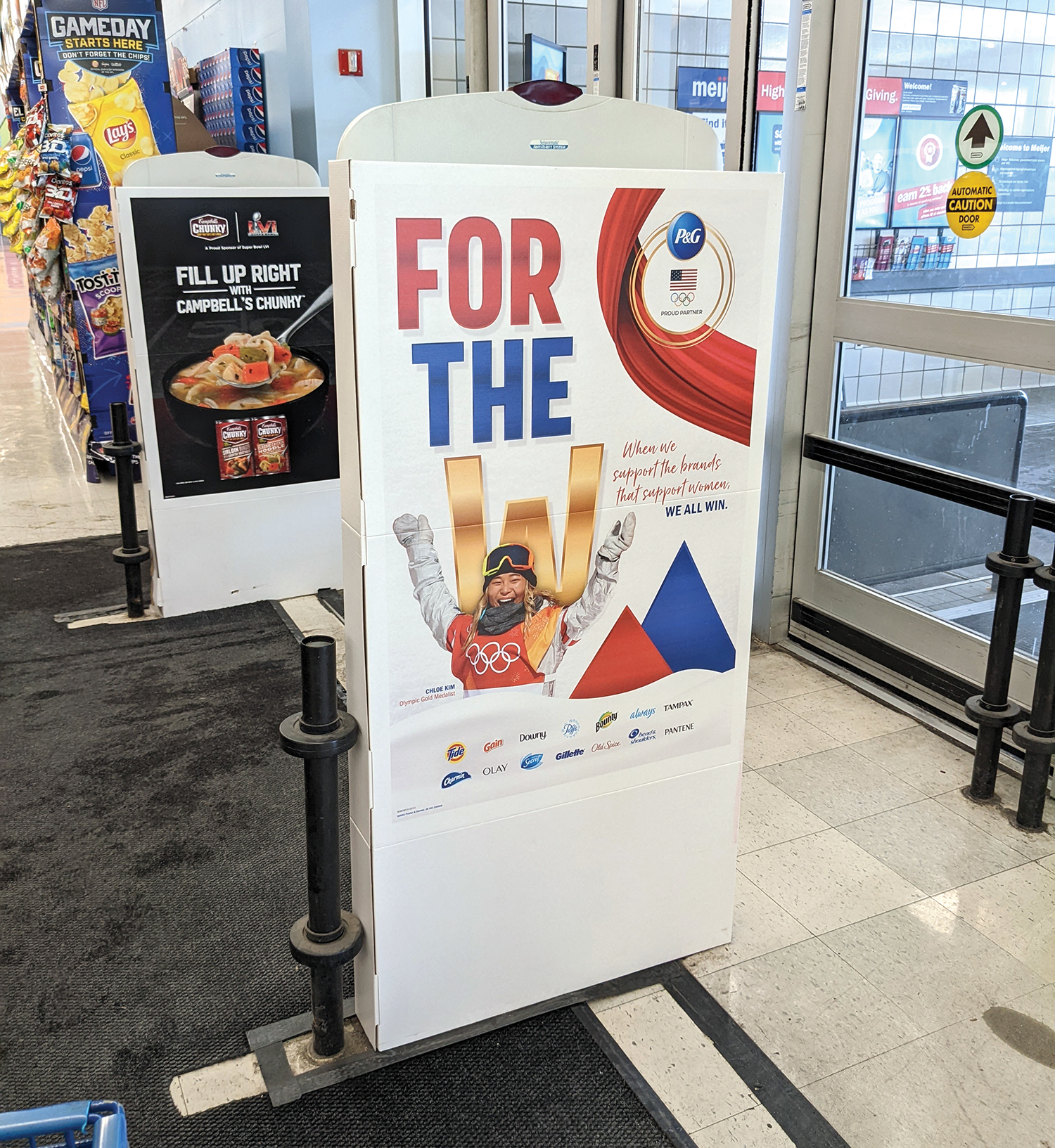 Procter & Gamble
activated
its Olympics sponsorship at
Meijer
ahead of the Beijing Games in February. In stores, a security shroud from P&G depicted American snowboarder Chloe Kim and communicated a "When we support the brands that support women, we all win" message. A gondola positioned along the retailer's action alley depicted the same creative and stocked SKUs from P&G brands, including Prilosec, Bounty and Mr. Clean. The retailer's Jan. 30 circular continued to plug the manufacturer's sponsorship while promising shoppers $5 off a future trip with select purchases.
LVMH's Hennessy launched an immersive art- and basketball-themed digital experience, dubbed the "Hennessy House of Moves," ahead of the NBA All-Star Weekend in February. The activation was the latest embodiment of Hennessy's "Make Moves That Start Movements" programming. The virtual experience comprised three "floors" users could navigate through, offering a hologram performance from rapper Gunna, a collection of digital art installations by various artists and a virtual bar, where consumers could find recipes for Hennessy's NBA-themed cocktails.