04/06/2022
From ghost kitchens to AI-powered micro-fulfillment centers to new tactics for e-commerce, retailers and brands are finding ways to meets the needs of tomorrow's grocery shopper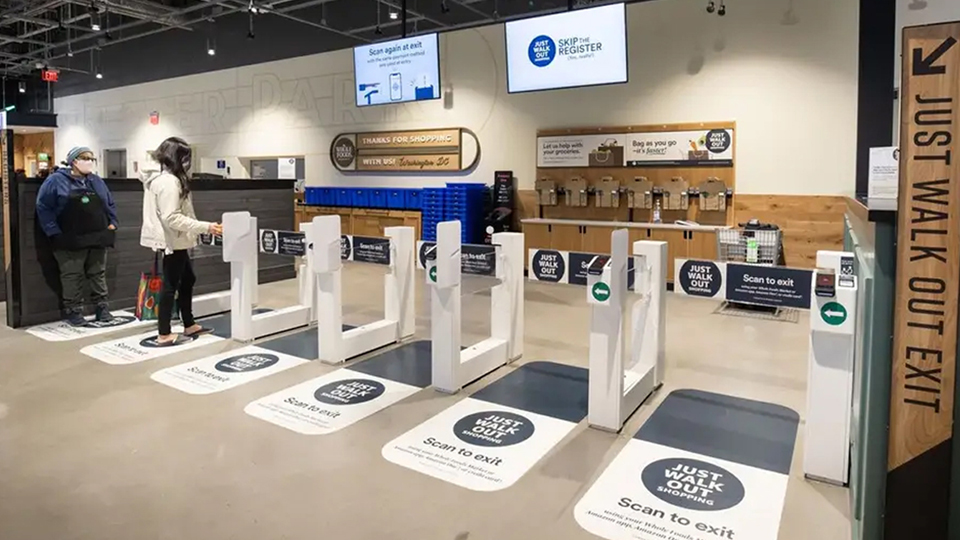 More than two years removed from the onset of the COVID-19 pandemic, it can be easy to forget how dramatically physical spaces were transformed in the early stages of the crisis. Empty hotel rooms doubled as remote work locations. Sidewalks, patios and parking lots became alfresco dining areas. Shuttered restaurants and bars provided temporary hubs for grocery delivery and community kitchens to serve low-cost meals to those in need.
For today's grocery retailing industry, cultural shifts and lasting impacts of the pandemic on shopping behavior mean that physical stores may never look the same again. Renowned author and consumer behavior expert Paco Underhill, who explores deep-seated changes to the U.S. food system in his new book, "How We Eat," envisions a time when supermarket parking lots will morph into an experiential breeding ground for community-focused activities like farmer's markets.
In the meantime, grocery retailers are adapting their store footprints to accommodate more flexible features, like ghost kitchens, which address consumers' growing craving for on-demand, restaurant-quality meals through partnerships with local eateries. Kroger, for example, is expanding its presence in the space through a new partnership with startup Kitchen United, including its first ghost kitchen that opened at a Ralphs store in Los Angeles in January (with a second recently earmarked for a Kroger store in Dallas).
The restaurant industry — which has been upended by the rise of third-party delivery services from the likes of Grubhub, DoorDash and Uber Eats — is also partnering with grocery stores to find new ways of addressing changing consumer habits. Ahold Delhaize's Giant Food chain is opening new store-within-a-store restaurant concepts through a continuing partnership with WOWorks, the parent company of several good-for-you restaurant brands, including two featured by Giant Food: Saladworks and Frutta Bowls.
Gregg Dorazio, e-commerce lead at Giant Food, says that further innovation in grocery store merchandising and design will be needed to respond to changing customer dynamics, including the increased reliance on third-party delivery apps, in-store pickup and other online shopping tools. However, he says that innovation will be primarily incremental, at least in the short term.
"There will be a lot of testing and learning to get to the right proportion and the right kinds of activity in-store," says Dorazio. "I think customers will be using the store for discovery of new products, or for tasting and experience and knowledge…So I do think it will have to evolve, because a portion of the space may be used simply for a pickup. And so, they may get part of their order pre-shopped and ready to go for them, but then they want to go and browse new items or go taste the produce that just came in from the local farm."
Other changes to the store might be more drastic, as retailers try to keep pace with technology-focused innovations that streamline the in-store experience. For example, Whole Foods Market in February rolled out Amazon's "Just Walk Out" technology at a store in Washington, D.C.
The capability allows shoppers to skip waiting in line for the checkout register. They enter these stores in three ways: scan the QR code in the Whole Foods Market or Amazon app, insert a credit or debit card linked to their Amazon account, or hover their palm using the Amazon One payment system. (Enrollment in Amazon One takes less than a minute, the company says.) 
Anything shoppers take off the shelf is automatically added to their virtual cart, and anything they put back on the shelf comes out of their virtual cart. At the end of their trip, shoppers simply scan or insert their entry method again and exit the store.
Amazon launched the Just Walk Out technology in 2018 and has piloted it at its Amazon Go and Amazon Fresh stores. Starbucks Corp. is also using the Just Walk Out technology at a location in New York. 
Peeling Back the Onion on E-Commerce Growth
The trajectory of grocery e-commerce sales over the past two years is marked by several peaks and valleys, many of which were driven by factors directly related to the pandemic (vaccination rates, the delta and omicron surges, etc.). The exact percentage of grocery sales coming from e-commerce depends on the source and method of analysis, as well as whether the researcher includes non-consumable items in its category definition. 
Coresight Research, which uses proprietary data plus data from IRI e-Market Insights, estimates that U.S. online grocery sales grew 17.9% last year after 94.4% growth in 2020. In 2022, the firm expects the market to expand 32.4%, supported by "pandemic-induced online shopping stickiness." By contrast, eMarketer found the online grocery market rose by 64% and 12% in 2020 and 2021, respectively, and is forecasting a 20% jump this year. The company pegs the U.S. market at $122.39 billion in 2021 and projects it will nearly double to $243.67 billion by 2025.
"Prior to COVID-19, you could characterize online grocery growth as being steady but slow. It was probably growing at a rate close to one percentage point of share year over year," says David Bishop, partner at Brick Meets Click. His company tracks online grocery sales from household data in a monthly online survey of about 1,800 U.S. adults across all channels, as well as in a separate analysis of transactional data from the major grocery chains. The firm estimates that total online grocery sales in the U.S. were just under $100 billion last year.
According to Bishop, e-commerce accounted for just under 2% of all grocery sales back in August 2019 (the firm didn't start tracking monthly sales until the start of the pandemic in early 2020), but spiked to nearly 15% at the end of March 2020. Since those initial peaks, "online sales have retrenched, but to an elevated level," says Bishop. Based on the firm's two sets of data, grocery e-commerce as a proportion of total sales is currently in the 10%-12% range.
Dorazio puts the number slightly lower ("I think high single digits is where most people are right now," he says), but emphasizes that the forecasts have the most uncertainty. "You could argue for 12% in a few years, but you could also argue for 25%," Dorazio says. "I don't think anyone knows what the true post-COVID retention rates will be."
Knowing Where to Place Bets
Grocery shopping behaviors have evolved significantly in the past two years, and it can be challenging for brands and retailers to know where to place their bets. One of the biggest questions is how much to invest in the so-called ultra-fast or instant-needs delivery space. Instacart established its 30-minute express delivery for grocery orders back in 2021, but thanks to an increasingly competitive foodservice delivery market, the entire industry is being forced to catch up. As just one example, digital startup BuyK is now working with Grubhub to provide delivery in 15 minutes or less to grocery shoppers in New York and Chicago.
"I don't think the customer necessarily knows if they want their groceries 15 minutes from now, or needs them delivered as fast as an order of Chinese food or a pizza," says Dorazio. "That's the tough part for retailers — which is to say, do I need to bet on that or should I wait to understand what the size of the prize is?"
Manufacturers have had to make their own calculations in deciding how to adapt to the changing environment. "There are a lot of adjustments we've made over the last few years in response to COVID-19 and its impact on consumer behavior. The changes have been fully end-to-end," says Steve McGowan, head of shopper activation and strategic partnerships at Mondelez International.
Like other manufacturers in the snacking category, Mondelez saw a dramatic increase in consumption in 2020, which prompted the company to adjust its approach to promotional and marketing support. "We pivoted our focus from innovation to core item supply. [We also] focus[ed] our supply chain on our top selling brands and SKUs to support inventory needs at store for both in-store purchases as well as BOPIS," says McGowan. "Additionally, we had to adjust our salesforce focus and our DSD model to try and accommodate as many stores and warehouses as possible to account for e-commerce growth."
The consumer's ongoing shift to digital shopping tools, meanwhile, has motivated many manufacturers like Mondelez to invest in more digital tactics, like retailer ad platforms. "With over 60% of sales being digitally influenced, and shoppers spending more time online, we are spending more time with them there," says McGowan. "We have shifted our spending at a customer level from traditional tactics to more digitally native tactics over the past few years. Specifically, from a shopper marketing perspective, the percentage of spend on digital over the past 3-4 years has grown from 20%-25% of total investment to more than 2.5 times that amount."
Seeking Efficiencies Through Automated Fulfillment
The grocery retailing business is ground zero for many of the inflationary and supply chain pressures, as well as labor shortages, that continue to plague the U.S. economy. In this constrained environment, grocery stores cannot afford to lose customers due to out-of-stocks or lengthy wait times to fulfill online orders.
Enter Takeoff Technologies and its micro-fulfillment centers (MFCs) — small, robotic warehouses of about 10,000 square feet that are typically placed inside grocery stores and automate the process of picking and assembling online orders. The Waltham, Massachusetts-based company has dozens of operational MFCs in place across the U.S. and partners with major chains including Albertsons and Ahold Delhaize. 
Takeoff's Chief Business Officer Curt Avallone says that its automated system can assemble grocery orders of up to 60 items in less than five minutes, a fraction of the speed and cost of current manual-picking options. "There's a lot of waste in the system," says Avallone. Data from those online orders, along with in-store transactions, gets plugged into the firm's AI-powered software platform to help retailers update shelves with a more localized and personalized assortment, he notes.
The current supply chain problems are not limited to physical stores. Brands and retailers need to shore up their e-commerce operations to avoid out-of-stocks online, warns Tim Madigan, a CPG industry e-commerce veteran and partner at Chicago-based consultancy The Partnering Group. "When you have supply issues, it not only upsets your buyer and hurts your in-store presence, but it also puts you at the back of the line of the digital shopping experience," he says.
Over the longer term, Madigan says that grocery retailers will need to find a better balance between "theater" and a more satisfying and efficient shopping environment. He points to Alibaba's Hema superstore concept in China — which doubles as a distribution center for online orders, in addition to a restaurant — as a workable model for future stores in the U.S.
McGowan agrees on the importance of the store. "We believe that there will be a certain set of customers who will convert to 100% digital, depending upon the category of goods. But we also feel the vast majority of people look for experience in-store," he says. "For some shoppers, it may just be an excuse to get out of the house, but for most, we believe that the experience of engaging with others, interacting with merchandise and personalization will be the reason that in-store will remain highly relevant."