Global producer of spirits, wines and aperitifs Campari Group ran a digital media campaign aimed at boosting sales of its Aperol Italian bitters aperitif at Albertsons Companies during the 2020 holiday season.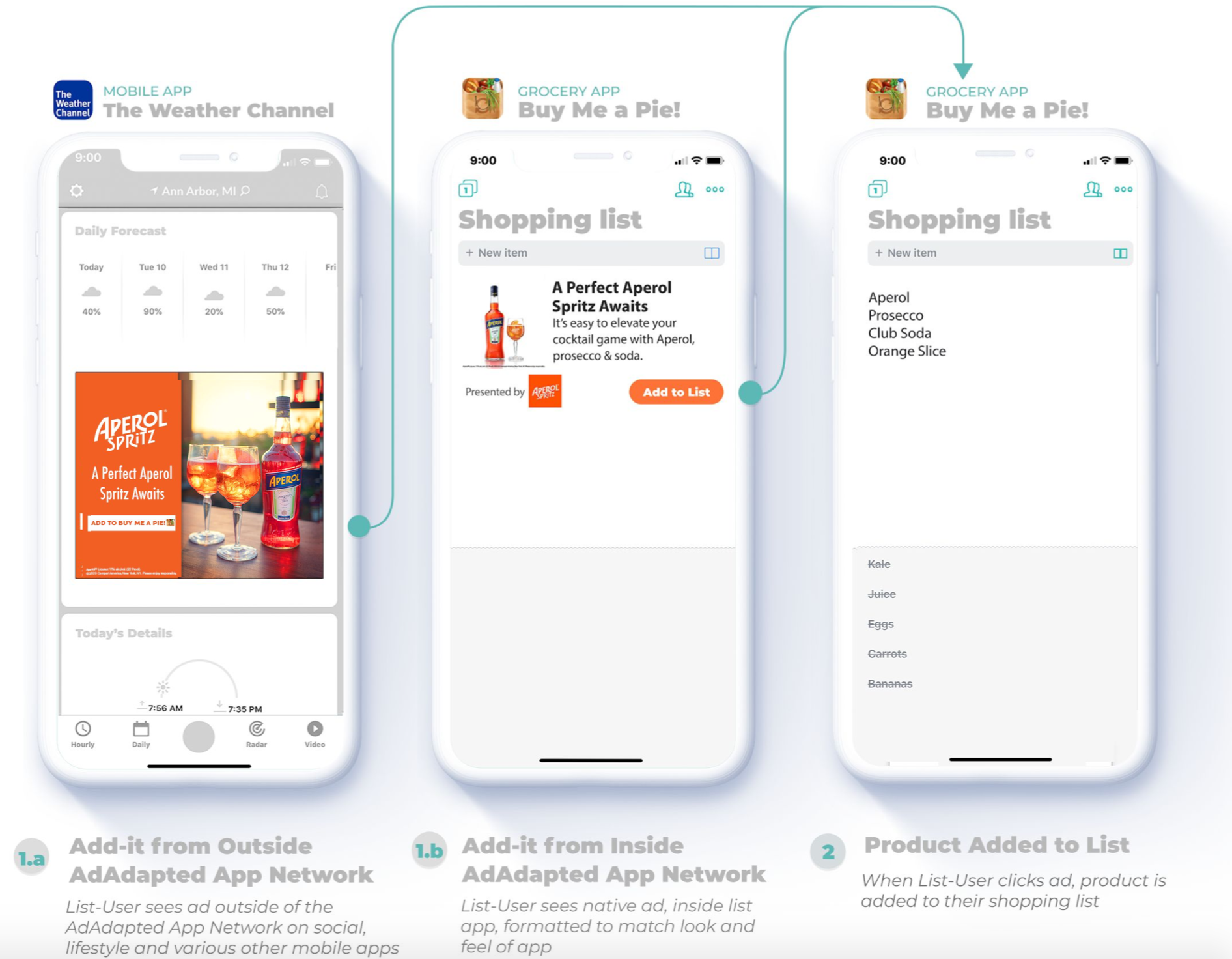 Looking to extend the usage occasion for the Aperol Spritz, typically a summer cocktail, into winter, Campari and its media agency of record Mindshare tapped Ann Arbor, Michigan-based AdAdapted to launch a mobile add-to-list campaign that showcased the libation's ingredients for six weeks beginning November 2020. The campaign activated AdAdapted's Add-It solution to intercept Albertsons and Safeway shoppers with: 
an ad running within AdAdapted's network of shopping list mobile applications, including the Buy Me a Pie app (pictured above) and Out of Milk app;
a display ad running outside of AdAdapted's network on social, lifestyle and various other mobile apps.
Both holiday-themed ads let shoppers add all the cocktail ingredients — Aperol as well as prosecco, club soda and orange slices — to their shopping list of choice (within AdAdapted's network) with one click. Another pair of holiday-themed ads (see below) also ran within and outside of AdAdapted's network of mobile apps during the same time period, each facilitating one-click shopping list additions of Aperol and sister-brands Espolon Tequila and Grand Marnier.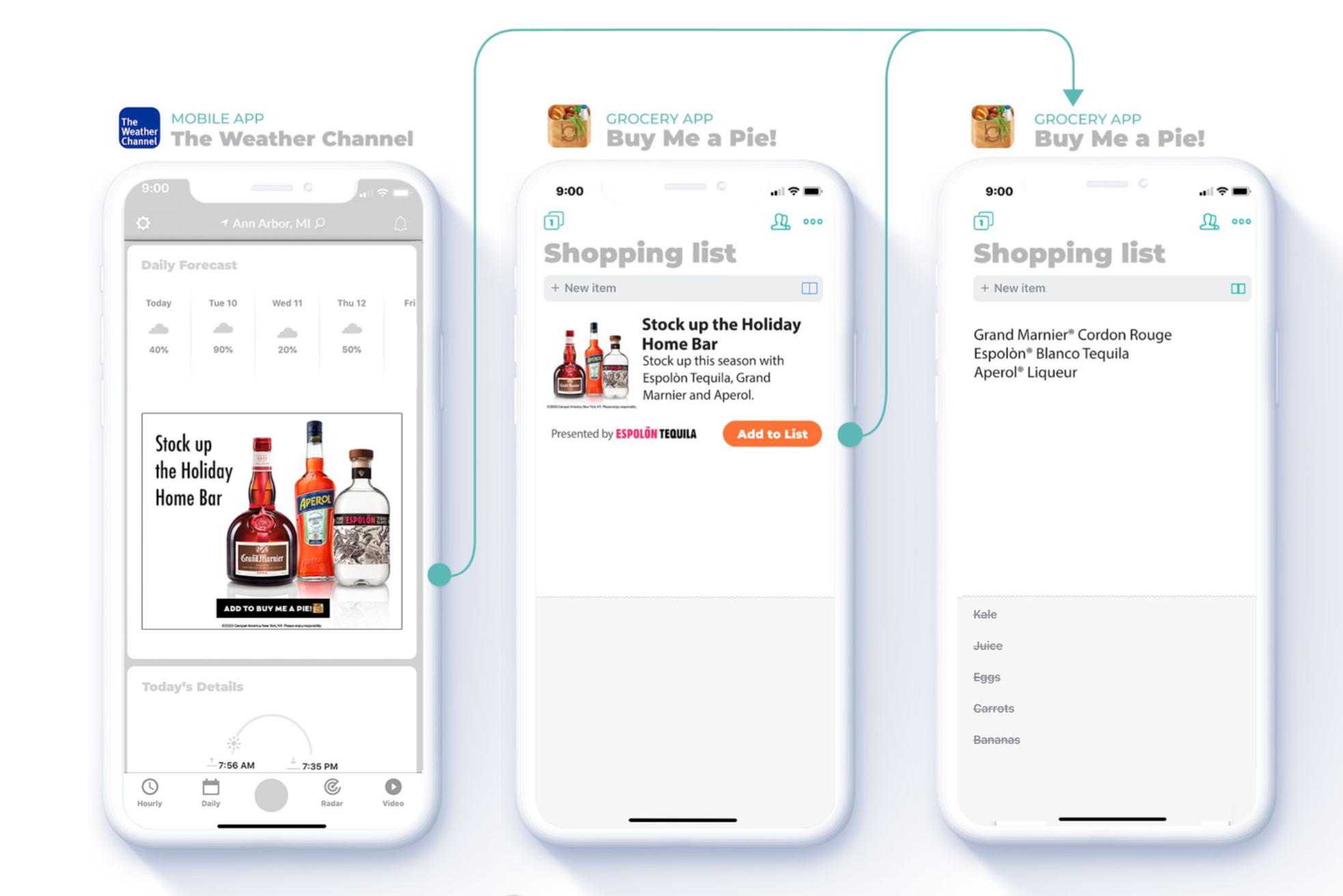 AdAdapted zeroed in on Albertsons and Safeway shoppers with tactics such as targeting media around pre-specified stores and using foot traffic data to determine whether a shopper frequently visits a store. Some shoppers also facilitate targeting by specifying their preferred store in the title of their grocery lists, an AdAdapted spokesperson told the Path to Purchase Institute.
Nearly 45% of shoppers who added products to their shopper list from the campaign visited an Albertsons Companies store within one day of adding-to-list. The campaign also resulted in a 0.37% add-to-list rate and a 9.9% incremental lift, according to Palo Alto, California-based marketing intelligence company Pathformance. The third-party sales measurement partner additionally reported incremental return on ad spend was $3.40 at Albertsons and Safeway.
Online grocery sales jumped dramatically in 2020, when more shoppers turned to online shopping due to the ongoing COVID-19 pandemic. With this campaign, Campari wanted to leverage this change in shopping behavior and pre-shop decision making.
"The shopper journey is always evolving, but in early 2020 there was a dramatic shift in the way people engaged with brands pre-store and then in store, driven by the pandemic," Simon Gilbert, Campari director of channel and customer marketing, off premise, told P2PI. "List shopping, pre-shop decision making, and less in-store browsing became more pronounced, especially in the grocery space. We started working with AdAdapted because of its ability to directly target buyers when they're in the consideration mindset (making their shopping lists), providing a recommendation to enhance the occasion they're shopping for with a specific recommendation from one of our brands."
In 2021, Campari ran multiple other programs with AdAdapted and the partners are looking at an always-on program for 2022, the AdAdapted spokesperson said.