NOTE: This is part 1 of a two-part report. In the May/June issue of Path to Purchase IQ, we will share insights into this evolved "path to purpose."
Globally, our desire to shop sustainably from both a social and environmental perspective is growing rapidly. A recent study from the NYU Stern School of Business and IRI finds that sustainably marketed products have grown seven times faster than conventionally marketed products over the past few years.
Yet, across many traditional CPG categories, we aren't always seeing this "intention" translating into "action." In fact, even though 96% of people in the U.S. claim to try to live sustainable lifestyles, only 36% of us actually follow through on making a better choice and a more sustainable purchase.
Think about that for a minute. Ninety-six percent of us say that we try to do the right thing, and only 36% of us actually follow through. It's called the "intention-action gap."
Imagine what that missing 60% could do for your triple bottom line? Closing the intention-action gap represents a huge opportunity in a growing market for both brands and retailers.
Closing the Intention-Action Gap
While this intention-action gap is the result of the many barriers shoppers are currently facing when trying to live more sustainable lifestyles (more on that later), it is also due to brands and retailers missing the mark on how they can truly connect with their shoppers and meet their expectations — not just through offers, campaigns and mechanics, but also strategically, operationally and executionally.
Closing the intention-action gap requires brands and retailers to work collaboratively and creatively to ensure that game-changing, sustainability-driven initiatives are seamlessly woven into operations, go-to-market strategy and the shopper's experience while also meeting their growing demand.
And it also means having the right tools and frameworks to be able to identify all the possible intention-to-action gaps along the path to purchase. Activating brand and retail partnerships that tap into the moments that matter to drive sustainable consumer behavior change is the ultimate goal here.
Sustainable Behaviors
Brands for Good — a movement initiated by the Sustainable Brands organization — measured this intention-action gap across the "nine sustainable behaviors" in September 2021. Results clearly show that there is a big opportunity to help shoppers buy more responsibly, especially in the areas of being energy smart, choosing nature-friendly products and fostering resilient societies. (This data is consistent with the 2020 results, by the way, where there have been little to no variations, despite COVID-19.)
And here's the thing: these nine most impactful sustainable behaviors are actually all needs-based, category-level drivers that have the potential to grow top-line category sales, margin and profit.
So, once a brand has aligned a sustainable behavior to a category need state, the question to ask is, "How can this sustainable behavior help drive that need and unlock that category growth opportunity for my brand?"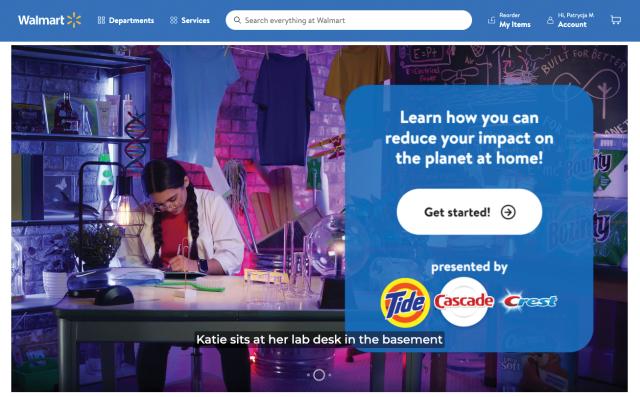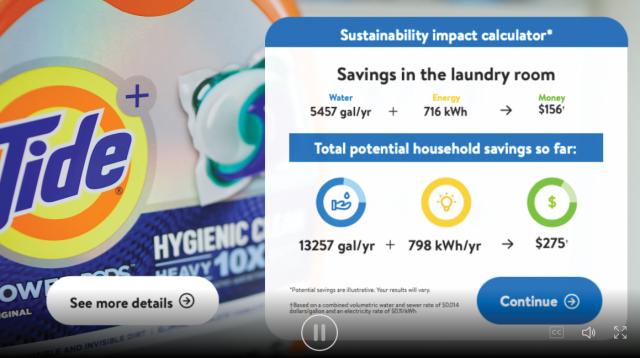 Tide as an Example
In March 2021, Tide announced its intention to decarbonize laundry at every step — including the largest source of its greenhouse gas emissions: consumer use (yes, doing the laundry).
Through company research, Tide discovered that switching from hot to cold water when doing laundry can reduce energy usage by up to 90%. This became a key reason to believe in their spring 2021 consumer campaign, #TurnToCold. Tide aimed to educate shoppers on the benefits of washing their laundry in cold water, including saving money and energy, and decreasing greenhouse gas emissions — all without sacrificing exceptionally clean clothes.
To reach shoppers at retail, Tide developed some retail partnerships. Hanes, for example, featured a "wash in cold" call-to-action, on their garments, along with Tide Pods samples and coupons on packaging to help communicate that shoppers can get a superior clean in cold water. Tide also partnered with its Procter & Gamble (P&G) sister brands Cascade and Crest, and with Walmart, to develop an interactive experience designed to educate families on how they can conserve resources in their homes through a few simple changes.
On Walmart.com, shoppers were invited on a journey through the home — including kitchen, bathroom and laundry room — answering questions and learning how small adjustments to their everyday routine could add up to potential water, energy and money savings over the course of a year.
At the conclusion of their experience in each room, Walmart shoppers had the option to "Add to Cart" the sustainable product choices they just learned about — featuring P&G brands Tide, Cascade, Dawn, Crest, Gillette, Pantene and Swiffer, among others. By connecting "being energy smart" (a sustainable behavior) with superior cleaning and value (category drivers), P&G was able to close the intention-action gap across a portfolio of brands to make sustainable living more accessible and rewarding for shoppers.
Observing this activation from a tactical point of view, P&G and its retail partners not only had good insight into the moments that matter along the journey, but they also knew exactly where the biggest intention-to-action gap was and, therefore, where the behavior change needed to occur to drive activation and mechanics. To do that not only requires the ability to find the sweet spot between what the brand(s) stand for, what the world needs and where the intention-action gap is, but it also requires a good understanding of motivation and behavior change theory.

Stages of Change
James Prochaska and Carlo DiClemente, for example, found that people who have successfully made positive change in their lives go through five specific stages: precontemplation, contemplation, preparation, action and maintenance. "Precontemplation" is the stage at which there is no intention to change behavior in the foreseeable future and this is often one of the biggest challenges brands face.
Based on brand equity, positioning and well-entrenched buying habits, a brand may not be perceived or considered as a real or genuine agent of change in the first place — let alone have the resources or means to break through and be considered in our crazy connected and omnichannel world.
By overlaying this model against McKinsey's stages and steps of the buying-decision journey, we realized that we could help brands and retailers understand the right barriers to tackle, the best pathway to reduce resistance and the right behaviors to drive conversion and create impact — at the moments that really matter to the shoppers.
In Summary
In short, the framework (see chart above) enables brands and retailers to engage, motivate, enable and then support shoppers to ensure the intention-action gap is identified and then the right behavior change sticks. It's linear simply for illustrative and practical "Post-it note" purposes.
So, for example, if the brand's objective is penetration, then chances are that the barrier to purchase lies somewhere between intention and action — or what might be traditionally known as awareness to consideration. In this case, low relevance, disbelief or lack of an emotional connection might be the brand barrier. At a channel level, it might come down to inconvenience or perhaps the category is complex, confusing and difficult to navigate — making it hard for the shopper to make the best decision.
We would hazard a guess that's exactly where the Tide campaign sat with shoppers wanting to take the right steps, but with the demands of daily family life trumping planetary concerns, they needed the brand and retailer to make it easy for busy parents to find a simple solution.
Using this framework, we have found that brands and retailers can start to co-create their activation ideas and agree on an efficient tactical plan by homing in on the intention-action gap at the moment that matters. Then the activation idea required will most likely emanate from the intersection between the brand and retailer's ESG commitments, the sustainable behavior change and category growth driver — and then by addressing the barrier to purchase that's creating the intention-action gap.
It's the intersection of these three that can deliver a triple bottom line and a triple win for people, planet and profit.
But this is only really relevant to business as usual. It doesn't reflect the reality of the circular economy and how more brands and retailers — especially in categories such as fashion, beauty, electronics and homeware — need to factor in "reduce, recycle, reuse and re-sell" into the equation.
The path to purpose, intention-action gap and types of triggers required to motivate and sustain the right behaviors have further evolved along with the model. IQ
About the Author: Phil White is co-founder and chief strategy officer at New York-based Grounded World, an award-winning, B-corp certified brand activation agency that specializes in activating brand purpose, social impact and sustainability at retail.